Whether your RV is motorized or not, there are many situations where you may need help with its transport. Perhaps the distance is too long or your truck broke down. If you're facing these problems or other similar issues, the following methods may help.
Transport companies
People commonly transport RVs over longer distances with this type of service provider. You can find one through a broker, on shipping marketplaces, or through independent research.
They transport recreational vehicles through 2 main methods:
Towing. The company will provide the truck, staff, and equipment. It's generally considered a safe way to transport recreational vehicles. Just note that different equipment will be needed for different RVs, so make sure the company has what you need.
Flatbeds. Using flatbed trailers and big trucks, the transport service provider can move several RVs across long distances at the same time.
As the owner, you will have to prepare your RV in terms of safety. You can ask your shipper how to do this, and they will check your work when picking up the vehicle. 
There may also be information on how to safely transport your RV in the owner's manual. Some steps you might want to take are the following:
Turn off electronics and appliances.
Close gas lines and shut down the RV's power supply.
Latch slide-outs and pop-ups.
Secure the cupboards, windows, and doors.
Visually inspect the vehicle, both the interior and exterior.
In some cases, an RV will have to be shipped internationally. The fee will be higher, and a ship will be necessary to cross the ocean. In this situation, an experienced shipper's help is invaluable, since the process can be quite complicated.
If you opt for a transport company, make sure you check their insurance certificate. In general, RV transporters should have a minimum of $750.000 for property damage and liability insurance, as well as the right authority and licensing. 
In case your RV is damaged during transportation, you may want to have some insurance as a backup. Check the document's terms for any limitations or exclusions. If you'd like to provide additional insurance for the RV's transport, you can obtain it from a third party.
Normally, a report is made to compare the RVs before and after condition. The transport company's representative will check for damages and ask you to sign a paper stating his/her findings. It's important that you do your own inspection of the vehicle and read the shipper's report carefully. If you find additional bumps or scratches after the transport, then add your findings in the report.
Referral services or brokers
While transport companies are the best solution to moving an RV over long distances, many people struggle with finding one that's both available and reliable. Researching the matter yourself will produce some results, but since you may not know what to look for, what you find may be inconclusive. You also run the risk of falling for one of the many industry traps, such as scammers and hidden clauses.
The advantages of working with a broker are numerous:
You'll know the Carrier which picks up your truck has been verified and approved by an experienced professional.
Brokers work with multiple carriers, so finding one in your area will be fast and easy.
The price you'll receive will usually be lower due to the inherent competition created by the system.
If you want to ship the RV overseas, the broker will deal with every segment of the transport, so you won't have to deal and coordinate with several companies on your own.
You'll save a lot of time on research and on dealing with the various aspects of the transport.
In case the truck has a malfunction and can't continue the trip, your broker can quickly find a replacement so the transport isn't delayed.
Transport marketplaces
Transport or shipping marketplaces are websites on which potential clients can find transport services for their trailers. These shippers can assist you with transporting your car to another state or even across the border.
You can also make a shipping listing on these sites where you can request transportation and add the RV's details. After submitting your listing, you'll receive quotes from various transport services. You can get better shipping rates this way thanks to the resulting competition.
The fee for moving your RV will be influenced by its size and the distance across which you request transportation. Other factors may need to be considered, such as customs and port fees, if you're shipping internationally. 
For local transports, you can expect to pay a maximum of $3 for every mile travelled. You can get an idea of how much you'll have to pay using the transport calculator provided on the site.
However, these rates are not the final cost of the transport. Depending on the situation, the final cost may be lower or higher. Furthermore, you'll need to find a company that specializes in RV transportation, since many will simply not be able to help you.
Before you decide on using a company's services, you should check their permit. They should have on file license numbers provided by the DOT. You can check their authority information and license easily on the FMCSA website.
Borrowing a truck
You can borrow a truck if you don't own one. You can ask other RV owners for recommendations, since they may have used such a service in the past.
However, you should be aware of eventual liability and insurance issues that may result from borrowing a truck for moving an RV. Check with your insurance provider and with the truck owner's insurance company if you want to be covered in case of damage or an accident.
It's important you let the person you're borrowing the truck from know what you intend to do with it. Some trucks may not be equipped or capable of moving RVs, and you can get into legal trouble if you lie to the owner.
To verify the truck's maximum towing capability, you should check the tow rating. Going above this weight can damage the transmission, motor, and suspension. To calculate the total weight of the RV, you can sum its weight, the weight of the liquids inside it, the cargo's weight, and the passengers' weight.
Going past a truck's towing capacity can prove hazardous on the road as well. Its brakes may not work properly if the cargo is too heavy. The trailer may sway uncontrollably when hit by winds to its side or when large trucks pass by it. This may lead to it hitting an automobile or you losing control of the truck.
To tow an RV, you can pick between the following options:
5th wheel. When using this method, the truck bed will be equipped with a mount. The advantage is a bigger towing capacity thanks to distributing the weight.
Conventional. Most RVs are towed using a mounted hitch on a frame. It's simpler than the other version and much more common.
Another thing to keep in mind is that the truck must have the right wiring and hitch for your RV. You won't be able to connect the 2 without the right hitch class. Furthermore, without the right wire connectors, your brake lights, turn signals, and operating lights won't work.
This method of transporting RVs works best over short distances. To avoid accidents, it's highly important to take safety measures seriously.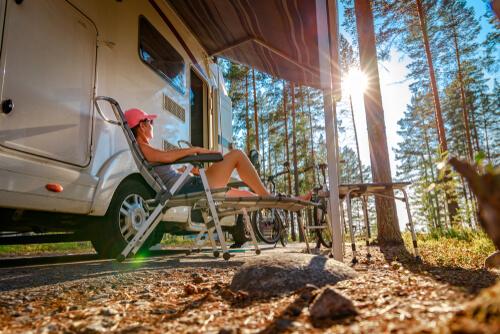 Dealer shipping
If you're thinking of buying an RV, you can expand your search area without worrying about transportation. Dealerships will often provide delivery services, though their cost will be added to your bill.
This makes it more convenient for clients that search for RVs online. Even if the model you're looking for is not in stock, you can still rely on the dealer to deliver it from somewhere else.
You'll find various 'walk through' videos on the dealer's website, as well as floor plans, pictures, and any information you may need. Furthermore, you can speak to a sales representative over the phone if you have additional questions.
You can obtain transportation and even financing online. After the purchase is finalized, the dealer will drive your RV to your home if this is amongst their options. If not, you can always opt for a transport service provider.
Truck renting
You may get better results from renting a truck as opposed to borrowing one. There are many companies which won't permit you to tow a car with their rental automobiles. However, the number of those who allow this option is steadily increasing.
In the past, most providers offered their truck rental services to just companies. However, thanks to the demand for towing trucks increasing, renting them for your own use is now possible. Since numerous RV owners lack trucks, this type of business will likely increase in the future.
Usually, a 1 ton or ¾ pickup truck will be the type you find at most renters. They will also provide the right type of hitch with which to tow your particular type of recreational vehicle. For quick moves, you can find tow trucks at Home Depot. 
Towed trailers are easy to move with rented trucks. However, those with a fifth wheel are a different matter. Most companies will not be able to install them and may even lack the mounts needed for it. Since you would need to drill the frame in order to install a hitch for your fifth wheel trailer, it's simply not an option.
Trailer Valets
For short distance moves, trailer valets are a great option for your non-motorized RVs. They're specialized dolly systems with high maneuverability and flexibility. If you want to move your RV up an inclined surface, to your parking spot, or around your driveway, it can be very useful.
A trailer valet has several features which may come in handy:
 They have built in jacks, are compact, and their towing capacity is excellent. You can use them to position your RV inside a garage, move it towards your tow truck, and for any other type of short distance move.
A drill attachment may be used on a few models.
More expensive valet trailers can move independently with a remote control and rechargeable batteries. Using them, you won't need someone to guide you while driving the RV through tight spaces. You'll be able to position yourself where the visibility is highest.
Thanks to the treads equipped on trailer valets, they can easily navigate through dirt, grass, grave, and pretty much any surface.
RV owners will likely find many uses for trailer valets. However, their price is quite high, so not many can afford them.