What's in this article?
Wyoming Heavy Equipment Shipping Services by A-1 Auto Transport
At A-1 Auto Transport, we specialize in heavy equipment in Wyoming, particularly for customers in the fields of mining and agriculture. Whether you're transporting a combine harvester, a tractor, drilling equipment, earth movers, or anything else, our skilled logistics team will ensure you get reliable, timely, and on budget heavy haul services in Wyoming. Get a free quote now to get started with A-1 Auto Transport.
How to Prepare Your Heavy Equipment for Shipping by Hauling Company
When shipping construction or farm equipment, it is important to utilize professional transporters who have an extensive range of flatbed trailers for shipping. Make sure to consider the maximum weight and length that the shipping container can carry as well. Before shipping, have all license plates removed from machine and wrap it in blankets or straps if necessary.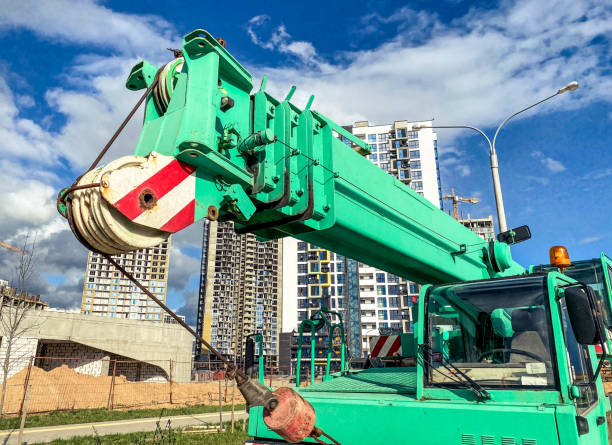 To ensure safe shipping, many haulers will send personnel to not only load but also secure your equipment safely on the trailer. For affordable shipping services, check out A-1 Auto Transport rental center which provides free estimates with shipping rates that no other company can match. Located near three interstate roadways it is one of the busiest rail yards and heavy stuff in the transport industry, connecting all major cities at the southern border.
Wyoming Heavy Equipment Pricing & Time To Ship Examples
| Shipping To/From Wyoming | Cost | Distance | Estimated Time In Transit |
| --- | --- | --- | --- |
| Wyoming to Lincoln | $1099 | 628 miles | 3 - 5 days |
| Wyoming to North Las Vegas | $1337 | 764 miles | 3 - 5 days |
| Wyoming to Oakland | $3344 | 1911 miles | 5 - 7 days |
| Wyoming to Minneapolis | $1552 | 887 miles | 3 - 5 days |
| Memphis to Wyoming | $2224 | 1271 miles | 4 - 6 days |
| Milwaukee to Wyoming | $2018 | 1153 miles | 4 - 6 days |
| Seattle to Wyoming | $1822 | 1041 miles | 4 - 6 days |
| Jacksonville to Wyoming | $3440 | 1966 miles | 5 - 7 days |
Insurance For Hauling Heavy Equipment In Wyoming
Your equipment is expensive, and you need to make sure that you're fully covered when you choose a partner for heavy equipment shipping in Wyoming. All transport providers will provide insurance up to the limits required by federal law.
However, this may not be sufficient to cover the full value of expensive machinery and equipment. While we coordinate your shipment, A-1 Auto Transport will help you explore your options in more detail and ensure your shipment is 100% covered.
Types Of Equipment We Ship In Wyoming
No matter what the job may be, A-1 Auto Transport is here to help. We can ship almost any type of heavy equipment or machinery in Wyoming, no matter the industry or the size. From shipments that fit on a standard flatbed to oversize loads that require special permits, pilot cars, and other such steps, we do it all. Common types of equipment we ship in Wyoming include:
Engineering, hydraulic, and industrial equipment
Bulldozers and dump trucks
Trenchers and scrapers
Pile drivers
Forklifts
Backhoes and excavators
Engines
Combine harvesters and tractors
And more.
For heavy haul jobs big and small, A-1 Auto Transport has the skilled drivers, specialized tools, and advanced logistics solutions you need for a safe, cost-effective, and timely shipment. Get a free quote now, or contact us for more information. Our team is always standing by to help.
Tips on Transporting Construction Equipment When Using a Shipping Company
When transporting your construction equipment, shipping companies are your most reliable and cost-effective option. From the heavy machinery to the shipping equipment, heavy equipment transport companies can safely move nearly all forms of your heavy equipment hauling across the country for a fraction of the cost of other methods.
With their specialized transport services, you can rest assured that all of your heavy construction equipment will arrive safe and sound at its final destination whether in Green River or somewhere far off. For example, A-1 Auto Transport recently shipped farm machinery from Black Forks Rail Yard in Cheyenne WY to South Dakota and another shipment of farm equipment along Wyoming Highway Patrol - both delivered on time with no delays.
So when it comes to shipping rock solid loads with max width 8.5 ft or greater, heavy haulers are your best bet!