What's in this article?
Kentucky Heavy Equipment Shipping Services by A-1 Auto Transport
Kentucky businesses will be happy to know that should they ever be in need to haul and ship heavy equipment, A-1 Auto Transport is ready to lend a hand.
Though we're mostly known for our work in the auto shipping world, there's actually little in the shipping industry we haven't done. Reach out to our team now free estimate to find out more about the heavy equipment shipping services at A-1 Auto Transport, and ask for a free quote!
Kentucky Heavy Equipment Pricing & Time To Ship Examples
| Shipping To/From Kentucky | Cost | Distance | Estimated Time In Transit |
| --- | --- | --- | --- |
| Kentucky to Huntsville | $499 | 285 miles | 3 - 5 days |
| Kentucky to Yonkers | $840 | 480 miles | 3 - 5 days |
| Kentucky to Fayetteville | $462 | 264 miles | 3 - 5 days |
| Kentucky to Montgomery | $796 | 455 miles | 3 - 5 days |
| Sioux Falls to Kentucky | $1493 | 853 miles | 3 - 5 days |
| Peoria to Kentucky | $3080 | 1760 miles | 5 - 7 days |
| Brownsville to Kentucky | $681 | 389 miles | 3 - 5 days |
| Salem to Kentucky | $1748 | 999 miles | 5 - 7 days |
Insurance For Hauling Heavy Equipment In Kentucky
Heavy equipment usually plays a significant role in the operations of a business, so the possibility of damages is not something any owner wants to think about.
A-1 Auto Transport understands the crucial role your heavy equipment has and will do everything in its power to ensure hauling and shipping do not affect any of your operations. We are fully insured and even offer extra protection and coverages. You can trust that if we're on the job, there is no need to stress about your heavy stuff!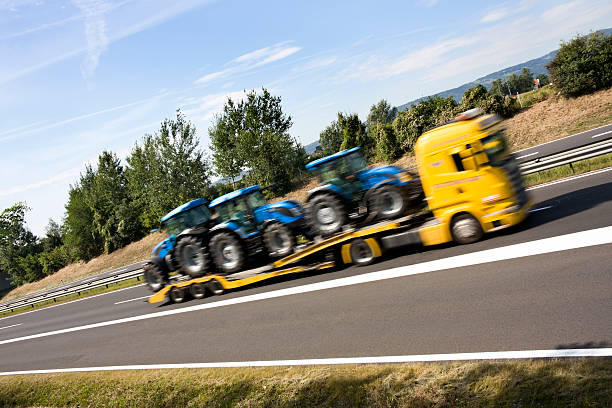 Types Of Equipment We Ship
Worried we might not be able to ship your equipment? A-1 Auto Transport has shipped a lot of types of heavy equipment, including:
Forklifts
Hydraulic equipment
Engines
Track loaders & graders
Pile drivers
Dump trucks
Large trucks & heavy vehicles
And more!
Over the years, we've grown A-1 Auto Transport into an industry-leader shipping company that even competitors look up to. Now, we are here to provide Kentucky businesses with easy access to some of the most reliable and quality heavy equipment hauling and shipping services in the country!
We encourage you to reach out to our team directly and ask for a free quote and more information about our services. With us by your side, your heavy construction equipment will be successfully shipped to where you need it!
Factors to Consider When Selecting Heavy Equipment Transport Company
When selecting professional transporters and a heavy equipment transport company, there are several factors to consider. The heavy haul transport industry can be difficult to navigate, but professional transporters are available to assist businesses in getting their heavy haul needs met with their extensive range of trailer choices.
The Right Company
In a region where nearly a dozen interstate highways operate and carry nearly all forms of equipment shipping construction and heavy hauling, including oversize loads and super loads, it is important to identify the right company with enough shipping equipment that can handle both small and large shipments.
Weight of equipment
Additionally, one must consider the max weight capacity, max length (53 ft) and max width (8.5 ft) limitations of their carriers when hiring heavy haulers. Businesses requiring specialized equipment, like crane or excavator rentals located in places like Bowling Green or Louisville KY are able to access professional transporters who have resources all across Northern Kentucky, to meet those needs.
Location
Thanks to commercially navigable waterways connecting Ohio River from Cincinnati OH down to Tennessee River, with Inland ports linking Ohio & Indiana as well as an abundance of two International Airports further connecting Ohio & Tennessee for pickup/delivery locations for auction house dealers.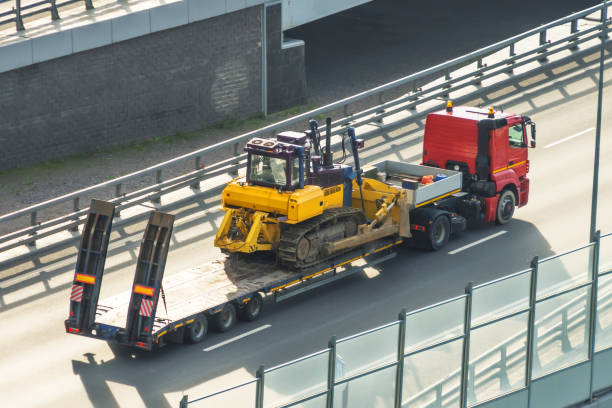 Rates
Offering free estimates for over a decade of professional heavy haul services and heavy machinery moving experiences, these professional transporters guarantee on reliable shipment with competitive pricing for businesses needing rental center solutions in this inland port linking Kentucky and beyond through connecting Ohio and Indiana via two international airports nearby.