What's in this article?
Complete Guide: Shipping Heavy Equipment to Iowa
A-1 Auto Transport offers amazing heavy equipment shipping and hauling services, and we are fully operational in Iowa as well!
If you need a team of professional movers to help you out, we're the ones to call. Feel free to reach out to us when convenient to find out more about our services, and ask for a free quote.
Factors to Consider When Selecting Iowa Heavy Equipment Transport Company
When selecting an Iowa heavy equipment transport company to move your industrial machinery, dump truck, farm equipment, or other oversized loads, there are many factors you should consider.
Experience and Expertise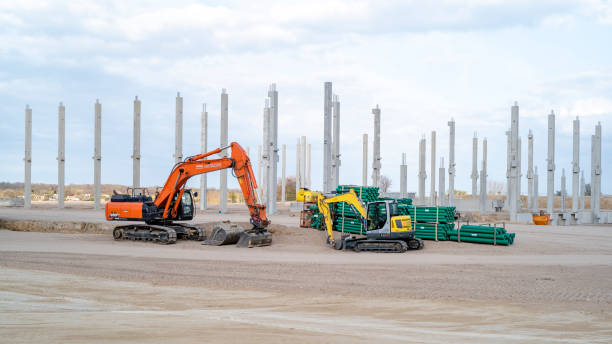 The first factor to consider when looking for a heavy equipment transport company is their experience and expertise. It's important to find a qualified carrier that has an established track record of handling heavy haul transport services safely, securely, and efficiently.
This will help ensure that your heavy machinery arrives in the same condition it left in. A reputable company should have many years of experience in the transport industry and should have extensive knowledge of the necessary safety requirements needed to handle oversized loads.
Heavy Equipment Transport Needs
Another important factor to consider when selecting Iowa heavy equipment transport is their ability to meet your specific needs using their shipping equipment. Not all shipping companies are the same, and some may specialize in certain types of heavy equipment shipping such as farm machinery or industrial equipment.
It's important to find a company that is able to handle your exact shipment requirements and provide the best service for your specific needs. Additionally, it's helpful to look for a transport company that offers free estimates and quotes, so you can make sure their services are within your budget.
Max Weight and Oversize Loads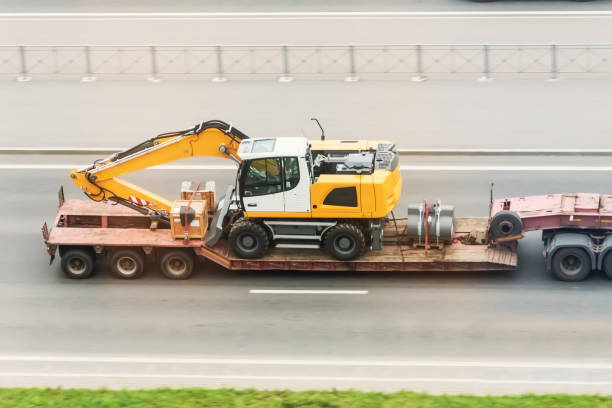 When looking for a heavy equipment hauling company in Iowa, it's important to make sure they can handle the max weight and oversize loads associated with your shipment. Many transport companies are only able to handle certain types of heavy equipment and machinery, so it's important to find a company that can easily handle the size and weight of your load.
Additionally, it's helpful to look for a company that has experience with different types of loads since some types of shipments may require special handling.
Quality and Service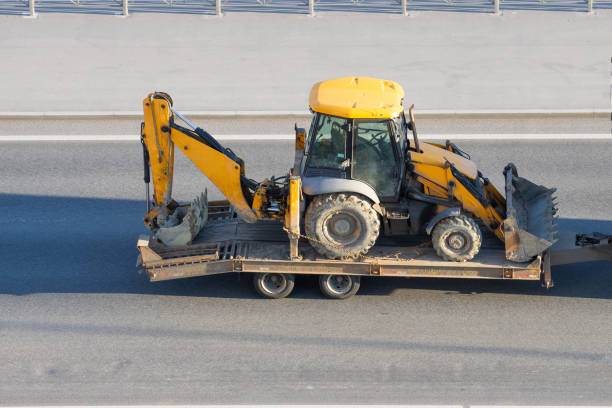 The quality of service a company provides is also important to consider when selecting Iowa heavy equipment transport services. It's essential to look for a carrier that has built up a strong reputation with many clients in the past, as well as one that is willing to go the extra mile in order to provide exceptional service.
The best companies will offer a variety of services such as pick up and delivery, efficient shipping estimates, and ongoing customer support. Additionally, it's helpful to look for companies that offer competitive rates so you can save money in the long run.
Reviews and Recommendations
It's also important to consider the reviews and recommendations of other customers who have used a company's services in the past. Seeing what others have said about their experience with a particular transport company can provide you with valuable insight into their quality of service and overall expertise.
Additionally, many online review sites offer ratings and customer feedback that you can use to make an informed decision on how to ship heavy equipment.
Location and Coverage Area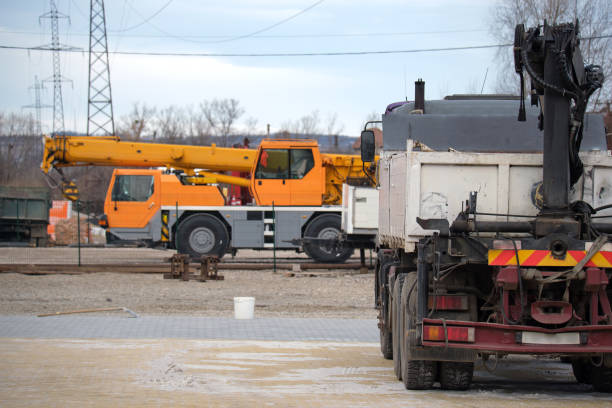 Finally, it's important to look for heavy equipment movers that is conveniently located and provides coverage across the state. Many Iowa cities such as Des Moines ia, Cedar Rapids, Iowa City, Council Bluffs, Sioux City, and Missouri River offer convenient shipping locations for heavy haulers, so it's important to find a company that can easily handle your shipment from any of these areas.
Additionally, many companies offer nationwide coverage in the US and Canada so you can safely ship your heavy equipment between different states or provinces.
Overall, finding the right Iowa heavy equipment transport company for your needs is critical for ensuring that your shipment arrives safely and on time. Be sure to consider all of the above factors when choosing a heavy hauler so you can enjoy the best service possible. With this in mind, you'll easily be able to find the right company for your transport needs and get the most out of your shipping experience.
How to Prepare Your Heavy Construction Equipment for Shipping by Hauling Company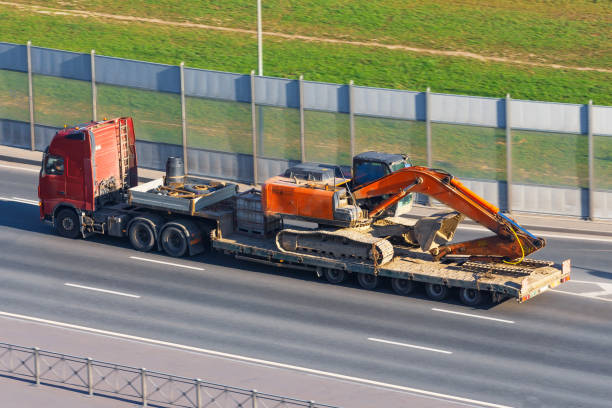 Properly preparing your heavy construction equipment for shipping is critical for keeping it safe during the journey and ensuring that it arrives in the same shape as when you sent it.
Drain All Tanks
When you are preparing to ship your heavy construction equipment, it is important to drain all the tanks that may contain liquids such as fuel or hydraulic fluid. It is also important to make sure that these tanks are left empty and dry before shipping as this will help ensure a safe delivery of your machines.
Additionally, make sure to label any volatile liquid tanks such as fuel tanks to avoid any confusion during the shipping process. You should also remember to fill out any necessary paperwork and get a valid shipping permit if required by law. This will help you save time, money and hassle during the shipping process.
Use Protective Wraps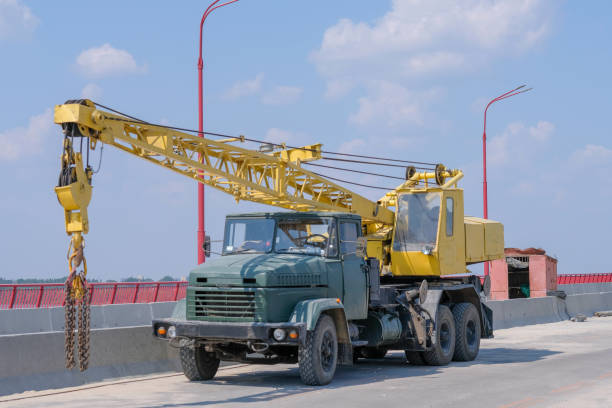 Using protective wraps when preparing your heavy construction equipment for shipping is essential to prevent damage during the transit process. It is important to use durable materials such as straps and shrink wrap that can hold up against any weather conditions or changes in temperature that may occur while on the road.
Additionally, be sure to secure all parts and components of your machinery to prevent them from moving or shifting during the journey. This can help you avoid unnecessary costs and damage caused by loose parts.
Choose The Right Shipping Method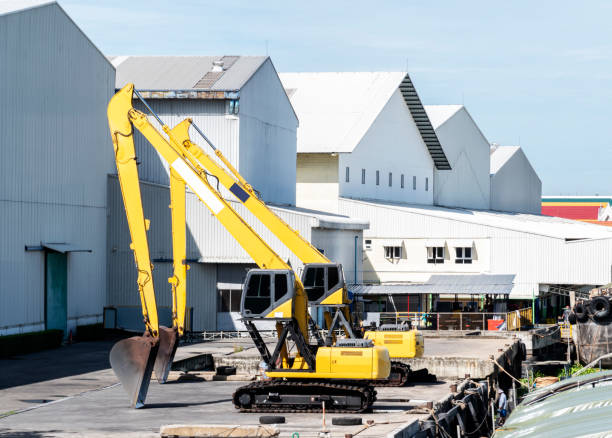 Choosing the right shipping method for your heavy construction equipment is important when it comes to ensuring that it safely reaches its destination. At Hauling Company, we offer an extensive range of trailer choices for nearly all forms of heavy equipment and machinery transport needs.
This includes step deck trailers, flatbeds, lowboys and more. Additionally, our professional transporters are fully licensed and insured to handle any oversize loads or shipments with a max weight of up to 10,000 lbs. So you can rest assured that your heavy items will be safely transported from point A to B when you choose Hauling Company for all of your shipping needs.
Snap Photos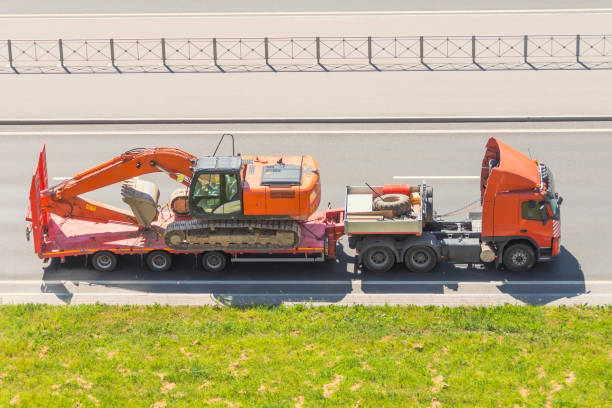 Before you ship your construction equipment, it is important to snap a few photos of the item being shipped. This can help provide some evidence in case of any damages that may have occurred during the transport process.
Additionally, make sure to keep an inventory list of all items being shipped and their condition before they are sent so you can compare them to the condition they are in upon arrival.
Inspection
Prior to shipping your construction equipment, it is important to inspect the condition of the equipment thoroughly. Make sure that you check for any visible signs of damage such as rust or dents, and that all the components are in working order.
Additionally, it is important to make sure that any safety features such as seat belts or handrails are properly functioning before sending off your equipment. Doing this will help ensure a safe journey for your cargo and prevent delays during the shipping process.
Iowa Heavy Equipment Pricing & Time To Ship Examples
| Shipping To/From Iowa | Cost | Distance | Estimated Time In Transit |
| --- | --- | --- | --- |
| Iowa to Phoenix | $2644 | 1511 miles | 5 - 7 days |
| Iowa to Fort Worth | $1491 | 852 miles | 3 - 5 days |
| Iowa to Hampton | $243 | 139 miles | 2 - 3 days |
| Iowa to Indianapolis | $639 | 365 miles | 3 - 5 days |
| Orlando to Iowa | $1066 | 609 miles | 3 - 5 days |
| Naperville to Iowa | $343 | 196 miles | 2 - 3 days |
| Surprise to Iowa | $1834 | 1048 miles | 4 - 6 days |
| Warren to Iowa | $868 | 496 miles | 3 - 5 days |
Insurance For Hauling Heavy Equipment In Iowa
Insurance is mandated by the federal government for all companies transporting cargo. Even so, companies can offer different degrees of coverage, so it's important for Iowa companies to find out as much as possible about the transporter's insurance before they get started.
A-1 Auto Transport is at your disposal and can discuss with you at length about our coverage. We understand that to make an informed decision, you need to know this information up front. Across all steps, you'll see we are reliable and transparent and will communicate everything you need to know.
Types Of Equipment We Ship
If you need to ship heavy equipment, you're likely wondering what that process looks like, and how the company will handle the particularities of yours. At A-1 Auto Transport, we take the time to plan every single detail of a shipment while taking into account the specifics of the type of equipment we have in front of us.
Over the years, we've dealt with:
Industrial equipment
Bulldozers
Dump trucks
Forklifts
Hydraulic equipment
Engines
Track loaders & graders
Pile drivers
Tractors, combines, farm equipment
And more!
If your heavy equipment isn't listed here, don't worry - we've handled several equipment types across every industry you can imagine. Please get in touch with the A-1 Auto Transport team now to find out if we've shipped the type of equipment you have in mind, or how we may be able to help.
Frequently Asked Questions
How much does it cost to ship heavy equipment to Iowa?

Due to the numerous factors that must be taken into account before responding to your question, no organisation can provide you with a specific amount. Therefore, it is preferable to request a quote. Because you will really provide some delivery-related information, it will provide a close estimate.

Naturally, distance is the main factor. The driver has to haul your big equipment for a longer period the higher it is, and the price of fuel increases as a result.

Since it might vary from state to state and can even be greater than usual at particular periods, the market price of fuel is also taken into account. Due to seasonal fluctuations, the price per mile fluctuates. A second piece of advice is to steer clear of holiday-filled months like December.

Dimensions of the equipment are important since excessive loads necessitate additional fees and licences.
How long does it take to transport heavy equipment to Iowa?

As was the case for the final cost, it's not possible to provide customers a number for the time needed to transport heavy equipment to Iowa. This is because there are many things to consider before a company calculates the final cost. However, a quote based on previous deliveries will get you a close estimate.

The first factor is naturally distance, since the farther your pick-up and drop-off locations are, the longer it will take for your equipment to reach you. But within this, the traffic and weather also play a role.

Bad traffic means the truck will inevitably slow down, which will lengthen the overall delivery time. When it comes to the weather, any extreme is bad. Heat means the engine overheats more easily, while storms are obvious delays.

Other than that, if your equipment counts as an oversized or wide load, the driver will have to take wide highways. The delivery will take even longer if your destination is far away.
Will my heavy equipment be secure during the hauling process?

A reliable shipping company will make sure your heavy equipment is secured on the carrier before transporting it. However, there are certain things the customer is responsible for.

You must have the equipment professionally cleaned, especially if your delivery is going to another state. Any extra components, including removable batteries, have to be taken out. The wires should be secured, and the fuel tank should be emptied.

You can take help from your shipping company for this stage, though you'll have to pay extra. Next, the loaders will push the equipment onto the carrier using a ramp and secure it with chains or eyelet straps, paying special attention to the main body.

Most containers also have chain eyes if you've chosen enclosed transport. All of these make sure the equipment doesn't move during transport.
Will my heavy equipment be insured?

Most professional shipping services specializing in transferring large pieces of equipment have insurance that protects them against potential losses.

Before booking your shipment, you must check insurance coverage with the shipping company to verify your equipment is protected. Your equipment will be safeguarded in this way, providing you peace of mind in the event that something goes wrong while being transported.

You should be given a copy of the shipping company's insurance policy and any coverage limits, deductibles, and exclusions information. Inquire with the shipping company if you have any insurance-related concerns.

Even for a normal oversized load, a company must have a minimum of $750,000 insurance, so if your equipment falls in that category, you must be meticulous when choosing the movers.