What's in this article?
Austin Heavy Equipment Shipping Services by A-1 Auto Transport
How do you ship equipment overseas? If you need heavy equipment shipping services in Austin, you may not be sure who to trust with your valuable machinery. A-1 Auto Transport is here to help. A-1 Auto Transport is a heavy equipment transport company that offers reputable, reliable, and professional heavy haul services throughout Austin.
Whether you need to move a piece of construction equipment or other heavy machinery locally or across the country, our logistics team is up for the job. Request a quote from A-1 Auto Transport to get the assistance you need in Austin right away.
Austin Heavy Equipment Pricing & Time To Ship Examples
| Shipping To/From Austin | Cost | Distance | Estimated Time In Transit |
| --- | --- | --- | --- |
| Austin to Fort Wayne | $3135 | 1220 miles | 4 - 6 days |
| Austin to New York | $3050 | 1743 miles | 5 - 7 days |
| Austin to Detroit | $2418 | 1382 miles | 4 - 6 days |
| Long Beach to Austin | $3101 | 1772 miles | 5 - 7 days |
| Salt Lake City to Austin | $2259 | 1291 miles | 4 - 6 days |
| Austin to Newark | $3031 | 1732 miles | 5 - 7 days |
| Austin to Tacoma | $3752 | 2144 miles | 6 - 8 days |
| Austin to Hialeah | $2354 | 1345 miles | 4 - 6 days |
Insurance For Hauling Heavy Equipment In Austin
Shipping heavy equipment with A-1 Auto Transport ensures you'll work with a reputable, reliable logistics company, and all heavy haul companies must carry insurance up to limits required by federal law.
However, this may not be enough to cover the full value of expensive, mission-critical machinery. For this reason, it's a good idea to invest in additional insurance coverage, particularly for essential equipment that may be worth millions. Get a quote from A-1 Auto Transport today to discuss your insurance options in further detail.
Types of Heavy Machinery Shipping Equipment
Open Deck Trailers: Open deck trailers are the most common way to transport heavy equipment. They offer a large carrying capacity, which makes them ideal for transporting bulky items like construction machinery and industrial machines. You'll also find that they are suitable for both short- and long-distance hauling needs. These trailers come in various sizes and can be loaded with cranes, forklifts, and other large items.
Drop Deck Trailers: Drop deck trailers are the go-to option when it comes to transporting heavy machinery that is too tall for open deck trailers. Like open deck trailers, they come in various sizes and can be used to transport equipment that is either too tall or too wide. They are also suitable for long-distance hauling needs and have a large carrying capacity.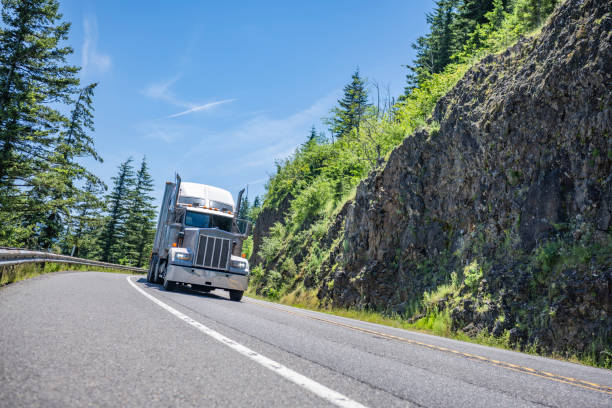 Lowboy Trailers: Lowboy trailers are designed to carry heavy loads at lower heights, usually around four feet or less. This makes them great for transporting items such as bulldozers, excavators, and other types of construction machinery. Lowboy trailers also offer a wider loading area than open deck or drop deck trailers, which makes them ideal for hauling multiple items at once.
Specialized Trailers: Specialized trailers are designed to safely transport extremely heavy loads that cannot fit on standard flatbeds or lowboy trailers. These trailers are usually custom-made to fit the specific size and weight of your load. Some specialized trailers include extendable flatbeds, multi-axle lowboys, and double-drop decks.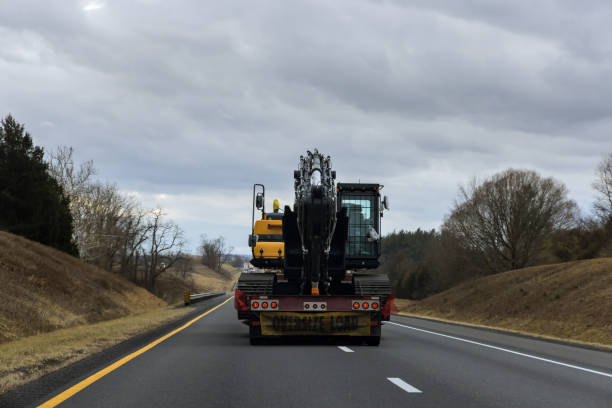 Enclosed Trailers: Enclosed trailers offer protection from the elements while you transport your heavy equipment. They also provide a more secure way to transport your load and help protect it from theft. You'll find enclosed trailers available in both standard and custom sizes, so you can choose one that is appropriate for the size of your load.
Types Of Equipment We Ship In Austin
Not sure if A-1 Auto Transport can handle your job? Thanks to our fleet of trucks and drivers, specialized equipment, determinations proved suitable for a successful delivery and years of logistics expertise, we can take on heavy haul projects of all types in Austin and beyond Colorado river. From smaller local jobs to oversize loads that must travel interstate, we're always prepared.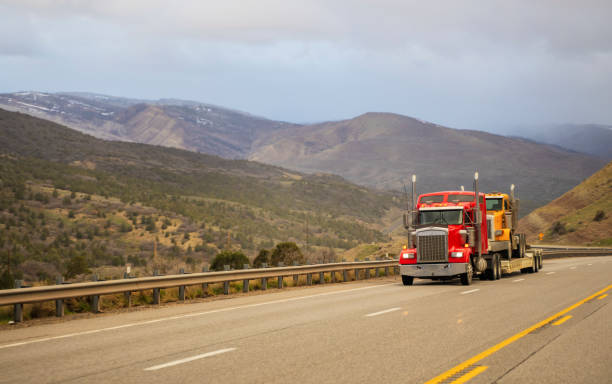 We frequently haul a wide variety of heavy equipment, including:
Excavators and backhoes
Engines
Dump trucks
Bulldozers
Forklifts and skid steers
Track loaders and graders
Trenchers and scrapers
Large trucks and heavy diesel vehicles
Combines, tractors, and other agricultural equipment
And more. So don't wait. If you need a heavy haul provider in Austin, contact A-1 Auto Transport online or call us at (888) 230-9116 to get a quote.
Information on Austin Heavy Equipment Shipping Companies
Looking to ship heavy equipment from Austin, Texas? Then it's time to explore shipping companies who specialize in purchasing and shipping heavy equipment for construction sites. In Austin and San Antonio, shipping companies can be found that offer the transport of pieces large or small - a long concrete pump truck or just a small piece of pipe.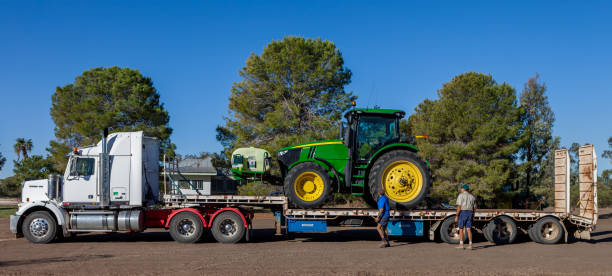 No matter the size or distance (whether it is near or far), these shipping experts have reliable transportation methods that are safe and cost-effective to move your project forward. Connecting with shipping companies experienced in heavy equipment transportation could just be the difference between your project satisfaction versus disappointment.
Benefits of Choosing A-1 Auto Transport for Your Austin Heavy Machinery Shipping Needs
When it comes to Austin heavy machinery shipping, look no further than A-1 Auto Transport. With flatbed trailers that can handle loads up to 10,000lbs and low Rgn trailer platform (s) for weights up to 860,000 lbs, we are the perfect choice for your transportation needs. As a full-service auto shipping business, we can make all the necessary determinations that will prove suitable for legal carriage of your goods.
In the transportation business, A-1 Auto Transport prides itself in successful shipments while providing complete customer satisfaction with their entire process. From planning permits to equipment inspections to documentation services - they have everything covered down every step of the way, making them an ideal option when dealing with Austin heavy machinery shipping.