What's in this article?
Maine Heavy Equipment Shipping Services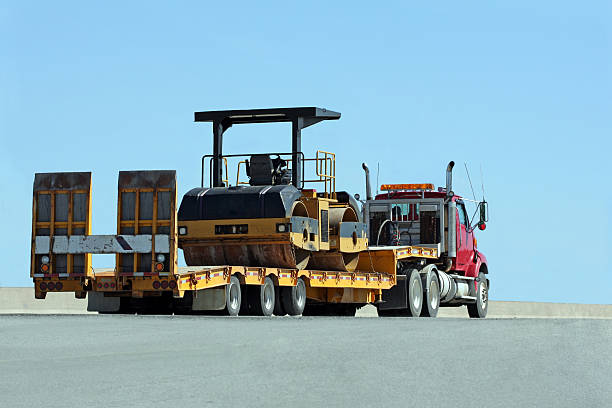 Preparation is crucial when it comes to transporting heavy equipment. Even a minor slip up can lead to expensive damages that can hurt your business tremendously. At A-1 Auto Transport, we are well aware of all the challenges that come with hauling heavy machinery. We have the knowledge, tools, and experience to tackle any job, no matter how small or big, and deliver.
If you are looking for a reliable heavy equipment transport company in Maine that can handle heavy machinery moving from various industries, get in touch with the experts at A-1 Auto Transport.
Maine Heavy Equipment Pricing & Time To Ship Examples
| Shipping To/From Maine | Cost | Distance | Estimated Time In Transit |
| --- | --- | --- | --- |
| Maine to Mobile | $3166 | 1809 miles | 5 - 7 days |
| Maine to Lakewood | $1185 | 677 miles | 3 - 5 days |
| Maine to Lincoln | $3052 | 1744 miles | 5 - 7 days |
| Maine to Jackson | $3171 | 1812 miles | 5 - 7 days |
| Orlando to Maine | $2938 | 1679 miles | 5 - 7 days |
| Portland to Maine | $5850 | 3343 miles | 6 - 8 days |
| Cleveland to Maine | $1809 | 1034 miles | 4 - 6 days |
| Joliet to Maine | $4025 | 2300 miles | 6 - 8 days |
Contact us now for a free quote.
Insurance For Hauling Heavy Equipment In Maine
Understanding your insurance options for transporting heavy equipment can be a bit tricky. Federal laws mandate that heavy haul companies have at least $100,000 worth of cargo insurance on their insurance policies. But, policies can vary from company to company and it can be hard to understand what level of protection you are getting.
At A-1 Auto Transport, we realize that your heavy equipment represents a big investment and any damage to your machinery can cost your business in the long run. We also understand that you want to get a detailed look at every aspect of your contract. That's why we are upfront and transparent about our insurance policies. Our team can give you all the information you need so that you can make an educated decision.
Types Of Equipment We Ship in Maine
One of the things we've learned is that in this heavy haulers industry, no two jobs are alike. The type of equipment you need to ship will dictate how we plan and approach the job on time, delivery with us is fast and secure.
In our years of experience, we've shipped a wide array of heavy equipment, such as:
Engines
Hydraulic equipment
Dump trucks
Forklifts
Pile drivers
Track loaders & graders
Bulldozers
Large trucks & heavy vehicles
Industrial equipment
And more!
Factors to Consider When Selecting Maine Heavy Equipment Transport Company
Reviews and Ratings
When selecting a heavy equipment hauling company, it is essential to research and consider multiple factors. Reviews and ratings can provide an insight into the reliability of the your construction equipment transportation service. Reviews from previous customers are helpful in making an informed decision and should not be overlooked.
Experience
Additionally, the company's experience in heavy haul trucking services is one of the most important aspects when choosing a Heavy Equipment Transport Company that specializes in shipping equipment, machinery moving and oversize load hauling.
Location
The location of the company can affect delivery times as well as international airport accessibility. Rates and fees should also be taken into consideration before selecting a heavy equipment transport company.
Accessibility
Knowing what type of flatbed trailers or step deck trailers are used with oversize loads and heavy hauling, will help in making an informed decision as well. Taking into account all these factors can ensure that your heavy machinery shipment arrives on time in South Portland or wherever else you intend to go!
Tips on Transporting Construction Equipment
Shipping construction equipment can be an arduous task. Even experienced professionals often find international airports, international borders, state regulations and heavy haulers hard to handle. However, with the right shipping services, it doesn't have to be so complicated. For instance, if you need to move machineries from Old Orchard Beach to Maine's Turnpike or flatbed trailers from South Portland to Cape Elizabeth, our reliable heavy machinery transport can get you there on time.
We understand the unique needs of the industry and are well-versed in many different operations – international airports and international borders included. We specialize in over dimensional loads (super loads), equipment transport oversize loads and even best trailer towing with step deck trailers for international logistics solutions if needed.
We are confident we can handle the shipping services of your heavy equipment too and deliver it to your destination safely.
Contact us now for more information.