What's in this article?
Shipping heavy equipment can present a lot of logistical difficulties, but a reputable company can make sure the process is completed with virtually no bumps in the road.
A-1 Auto Transport isn't just in the business of shipping vehicles. We also provide shipping and hauling services in Alaska for all companies who want their equipment moved from point A to point B safely.
Alaska Heavy Equipment Shipping, Pricing & Time To Ship Examples
| Shipping To/From Alaska | Cost | Distance | Estimated Time In Transit |
| --- | --- | --- | --- |
| Alaska to Austin | $4750 | 2657 miles | 6 - 8 days |
| Alaska to Phoenix | $5777 | 3301 miles | 6 - 8 days |
| Alaska to Baltimore | $5864 | 3351 miles | 6 - 8 days |
| Alaska to Virginia Beach | $6762 | 3864 miles | 7 - 9 days |
| Wichita to Alaska | $5117 | 2924 miles | 6 - 8 days |
| Newark to Alaska | $6554 | 3745 miles | 7 - 9 days |
| St. Louis to Alaska | $5455 | 3117 miles | 6 - 8 days |
| Gilbert to Alaska | $5301 | 3029 miles | 6 - 8 days |
Contact us now for a free quote.
Insurance For Hauling Heavy Equipment In Alaska
A-1 Auto Transport is a leader in the shipping industry, and we've positioned ourselves at the top thanks to the high-quality services we provide and a great work ethic that leads to a job well done every time.
Not only that, but we also aim to help our clients manage their heavy equipment needs safely, offering great insurance options for hauling and shipping heavy equipment in Alaska. Thanks to such policies, you are protected in the event that something goes wrong.
If you want to know more about these insurance options, reach out to our customer service team who can give you all the relevant information and get your heavy machineries delivered safely!
Types of Equipment We Ship
"Heavy equipment" is a rather vague term, and companies often don't have the necessary skills and tools to ensure the shipping and heavy hauling of everything that falls under this category.
At A-1 Auto Transport, on the other hand, we've built a lot of experience in handling projects with very diverse types of heavy equipment, such as:
Tractors, combines, and farm equipment
Bulldozers
Engines
Backhoes and excavators
Trenchers and scrapers
Engineering & agricultural shipping equipment
Alaska Heavy Equipment Transport Services
Alaska heavy equipment transport services offers the best highway hauling services around. With experience in shipping and transporting heavy equipment via highway, they can easily get your cargo quickly and safely delivered to Delta Junction, Glenn Highway South, Richardson Highway or anywhere else in Alaska.
No need to worry about large freight center - their heavy haul trucking and shipping expertise allows them safe transport of freight including large machinery. Truck traffic is conducted over the Alaska Highway, which runs basically north/south from Alaska.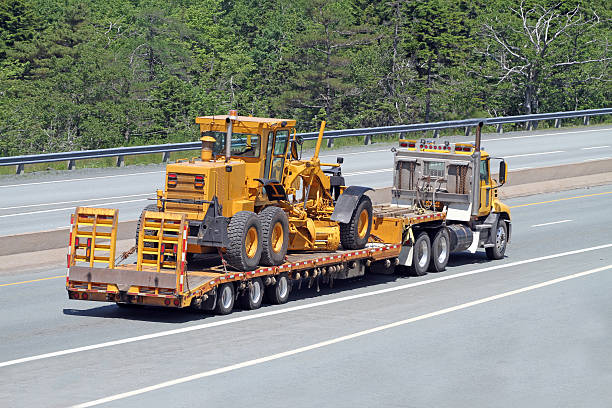 As your trusted highway transporter you can have the peace of mind knowing that your heavy haul shipment is in reliable hands folks who will make sure it is safely delivered to its destination. Also , when we talk about moving heavy machinery and hauling supplies for the major Alaska pipeline construction sites or even for visiting glacier bay national park, doing so with Alaska heavy equipment transport services gives you Alaska highway safety and reliability at its very best!
Benefits of Heavy Equipment Shipping Services Across Alaska Highway.
The Alaska highway is a cruise port and one of the largest highways in the US, making it an efficient route to ship heavy construction equipment. With its oversize loads, Delta River bridges and parks highway, there are restrictions on max length but shipping companies on the Alaskan panhandle like A-1 Auto Transport are experienced in finding safe routes for super loads.
Experienced teams check route surveys, ensuring that the best trailer is selected for the route. These shipping services also offer free estimates so shippers can quickly organize their transport needs while saving up on costs. No wonder why A-1 Auto Transport operates some of the foremost providers in hauling industry!
And more!
If you want to know more about our services or whether we can meet your specific needs, we encourage you to reach out to us directly for a free quote so we can start talking about the specifics.