What's in this article?
Safe And Reliable South Carolina Car Shipping Services By A-1 Auto Transport
There is plenty to do in terms of recreation in South Carolina. It lies in the southeastern region of the United States, Columbia being it's state capital. From kayaking in the Atlantic ocean to swimming in any one of the state's lakes to hiking on the various lush green trails throughout the state, South Carolina is a well-visited state that offers a slower pace of living, which appeals to many people. The cost of living is fairly low here, which makes it an attractive option for relocation. There are several larger cities, but many of the towns in the state are still fairly rural, which makes a car a necessary resource in this state. Charleston being the largest city is the most populous state in South Carolina.
Cost & Time To Ship Your Car Examples
| Shipping To/From | Cost | Distance | Estimated Time In Transit |
| --- | --- | --- | --- |
| Columbia to Atlanta | $215 | 215 miles | 2 - 4 days |
| Nashville to Columbia | $442 | 442 miles | 2 - 4 days |
| Charleston to Miami | $445 | 593 miles | 2 - 4 days |
| New York to Charleston | $571 | 761 miles | 3 - 5 days |
| South Carolina to Illinois | $624 | 832 miles | 3 - 5 days |
| Oklahoma to South Carolina | $632 | 1054 miles | 4 - 6 days |
| South Carolina to Texas | $722 | 1203 miles | 4 - 6 days |
| Phoenix to South Carolina | $1025 | 2050 miles | 6 - 8 days |
| South Carolina to Oregon | $1058 | 2644 miles | 7 - 9 days |
| San Francisco to South Carolina | $1071 | 2678 miles | 7 - 9 days |
| Columbia to Seattle | $1128 | 2820 miles | 7 - 9 days |
*Prices and times for South Carolina auto transport are estimated. They can vary depending on the season, state located location and what type of car you are shipping.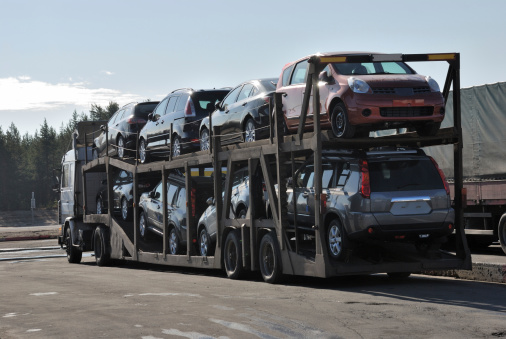 Car Movers Near Me - Ship Car From State To State
Looking for auto transport companies near you in South Carolina? If you're moving to or from South Carolina, you might need help getting your car from one place to the other. This can be a tricky task, especially if you want to ship more than one car. We can help with your SC auto transport services.
Whether your move requires a short distance such as Rock Hill South Carolina, to the next state over or you want international car shipping to the southeastern part, we have a car transport plan for you. Talk to our team of auto shipping experts and head to A1 Auto Transport to get a free car shipping quote and carrier availability with trucks in your location right now.
Using Car Transport To South Carolina
When you are looking to book South Carolina car transport services, keep a few key tips in mind.
Find the nearest auto shipping depot: Because there are a number of rural areas in South Carolina, you might find out where the auto transport company of your choice has a depot. In some cases, you might need to pay even more for delivery or drive to a nearby big city to get your car.
Prep your car for driving once you've picked it up: Once you've picked up your car, do a thorough check on it to ensure that it is good to go for driving. If you've established yourself in South Carolina, then you might get it checked out by a mechanic, just to be sure it is in good working condition.
Research your auto shipping company: When you choose a South Carolina auto transport company, do your research to determine their record of customer service as well as their ability to offer the type of auto transport services you are looking for.
Visit the South Carolina Department of Transportation or better business bureau website for more information on South Carolina's popular car shipping locations and the plentiful opportunities in which it can offer those visiting or relocating to the state.
Long Distance Car Transport Services South Carolina
Driving your car to your new location might seem like the easiest option, but most people find it time-consuming and expensive. Shipping your car with a South Carolina auto transport company can save time, effort, and unforeseen expenses. Though you may have several options in moving your car to or out of South Carolina, it is important to know your needs and to consider whether you should use an open or an enclosed carrier.
The auto shipping cost may vary depending on the shipping options you choose and your expected time frame. You should first think of a place for the pickup and delivery of car, as well as your preferred pickup and delivery dates.
Express deliveries in international car shipping are more expensive. If you can be flexible, then you may want to schedule your shipment during the cold season for a more affordable price. Talk to us if you have any questions regarding South Carolina auto transport or the snowbird season shipment price.
International Car Shipping from/to South Carolina
A1 Auto Transport's services are a simple way to avoid the numerous pitfalls of South Carolina auto transport. All you have to do is call our South Carolina auto shipping office and explain your situation. Our personnel will go through all your options, so you can choose the best South Carolina car shipping option. Once you both come to an agreement, you'll set the pickup date, prepare the necessary documents, and that's it to get your car arrived in any country.
Simply sign the contract our truck driver will give you and your car shipping will be done. Remove all personal items from the car before the shipment begins. We'll get it to and past the country border, deal with customs, pay the necessary shipment taxes for the country, and get your shipment safely to your desired location. We provide South Carolina car shipping in all major cities like North Charleston, Myrtle beach, Charleston port, Hilton Head, Greenville, Columbia, Rock hill, etc.
Cheap Auto Transport Options in South Carolina
Our area of services include
North charleston south carolina car transport
Rock hill south Carolina car shipping services
mount pleasant south Carolina car shipping services
Summerville south carolina
Columbia south carolina shipping services
Charleston south Carolina shipping services
Greenville south Carolina auto transport services
Myrtle beach south Carolina car transport
Sumter south Carolina sc car carrier services
Florence south Carolina car shipping
The Best Car Shipping Companies South Carolina Has To Offer
A1 Auto Transport offers several cheap South Carolina auto transport service options. For a customized California auto transport service plan, we recommend you speak to our staff directly. Here are a few things you can discuss:
If you're looking for the cheapest South Carolina auto transport service, request using one of our open-air carriers. Their price is lower thanks to their larger number and carrying capacity to ship cars at affordable diesel fuel.
Tell our employee your ideal pickup and drop off locations and ask if there are any shipment terminals nearby. It's cheaper to take your car there than to have the truck go all the way to your home.
Finally, ask about our seasonal offerings and state capital discounts. This will reduce the South Carolina auto transport cost considerably.
Shipping Luxury and Classic Cars in South Carolina
Antique and classic car shipping requires precision and expert handling, as does transporting luxury and exotic vehicles. Our clients usually want white glove service, so for this purpose, we recommend our enclosed carriers.
Besides the professional drivers, enclosed transport type protects automobiles from flying road debris, from the elements, and from other risks found in normal open auto transportation. Unexpected problems, like liquids falling from vehicles placed above your own on the trailer are avoided. The limit of our insurance policy is also raised, so despite the bigger car shipping cost, due to the value of luxury and antique cars, it's usually worth it.
South Carolina Auto Shipping Special Discounts
Au1 Auto Transport has several seasonal offerings everyone can use. Many helpful links and car shipping information is available over the phone. Also, if you're a student, a senior, or part of the US Military, your South Carolina auto transport costs will be lower. This is thanks to our special car transport discounts for these 3 groups of citizens. Use our quote calculator to get price for auto transport South Carolina shipping service. We also have great offers if you want to ship more cars in a single shipment.
Auto Transport Safety Measures in South Carolina
Accidents rarely happen during SC auto shipping services. Safety is the prime concern in car shipping. By following specific routes and adhering to some basic safety measures, our drivers avoid potential accidents long before they can happen.
Cars are fixed in place on our carriers, so they can't move. They're further protected by beams and bars. Enclosed trucks cover them completely, so not even the smallest pebble can reach them.
However, in the unlikely situation where your car does get damaged, you can get your money's worth thanks to our insurance policy. From the moment you leave the transport with us, the automobile becomes our responsibility. If anything happens during SC car shipping services, we'll make sure you're compensated.
Services And Information
A-1 Auto Transport Ships Worldwide.
Get a Free, No Obligation to Buy, Auto Shipping Quote.
Get my free quote now
or call us to do it for you:
How to Request a Price Estimate to Ship My Car Quickly
Although calling may help us put together a better SC auto transport services for you, if you're just looking for a general price estimate, our online form will work just fine. Follow the instructions in our "Instant Quote Calculator" and complete every field in the quote calculator. Our staff is easily accessible in major cities of North Carolina also.
If your shipping budget is low or you're located in a difficult-to-access area, by calling us directly we may be able to provide you with a solution. Some of our clients may qualify for special discounts which are only disclosed over the phone. There may also be carriers or terminals nearby which you can use to lower your transport costs.
We offer SC auto transport services in the following areas:
surrounding areas north Charleston
surrounding areas Sumter
surrounding areas Myrtle beach
surrounding areas Rock Hill
surrounding areas Mount pleasant
surrounding areas Columbia
Reliable Vehicle Transport Companies Near Me Directory
DARLINGTON
Careys Auto Transport
When you need a South Carolina car shipping company that provides affordable rates, Careys provides a solid transport option. You can ship a car to Hilton head, Mount pleasant, Charleston, Greenville, Columbia, Myrtle beach, Rock hill, North Carolina, and more.
1017 Pocket Road, Darlington, SC
843-393-6148
BLUFFTON
T&J Auto Transport
Moving in or out of South Carolina? T&J offers auto transport South Carolina services, from enclosed and temperature control to open-air, which is the most budget-friendly option to ship a car. Get your car arrived in any location like Myrtle beach, Columbia, Greenville, Charleston, etc.
PO Box 1163, Bluffton, SC
843-757-6750
South Carolina Vehicle Registration
You may complete your vehicle registration with the South Carolina DMV either in person or by mail. New residents and those who have recently purchased a vehicle must accomplish the registration fast. You must present your insurance certificate, vehicle title, registration fees payment, and the receipt of your vehicle's property tax payment. The transfer of license plates to a new vehicle from a previous one is permitted, and provisional permits for vehicle registration are provided for certain circumstances.
New South Carolina Residents
New residents have forty-five days to get a certificate for a SC vehicle registration, which will be valid for two years. To proceed with the registration, your vehicle's property tax must be paid for at the county auditor prior to registering. Don't forget to obtain an original receipt for a paid automobile property tax and submit your one-time payment fee of $250 for the IMF.
After securing your receipts, prepare to title and register your car, which may be completed simultaneously. The two ways the SCDMV allows you to register are:
South Carolina Vehicle Registration Process
You must register your newly purchased automobile– used or brand new – within a forty-five day period from the date of purchase. South Carolina vehicle registrations are valid for two years from the exact month you registered the vehicle initially in the Palmetto state.
SC dealership purchased car
The dealership is known to forward vehicle registration paperwork to the South Carolina DMV for you after your purchase.
Vehicle purchased from or gifted by a private individual
Your vehicle's property tax must be paid for with the auditor in your county prior to registration. Do not forget to secure an original receipt for the paid car property tax during registration.
You may register in person or by mail; both options require the same paperwork. If you plan to send them via mail, you must send all the necessary documents to the mailing address stated on Form 400.
For in-person registration, you must drop by the SCDMV in your area and present:
Your filled-out application form for registration and title certification for Form 400.
A certificate of vehicle insurance. You must provide your car insurance company's name, for which the South Carolina DMV office will electronically verify your coverage.
Receipt for the car property tax you paid for.
Payment of applicable SC car registration fees
You must complete Form 400's Section G to apply for an IMF exemption if your vehicle was given to you as a gift. This is applicable in all cities like Greenville, Charleston, Columbia, etc.
Registration by mail must be completed by adhering to the standard procedures and by sending all the necessary paperwork, together with a money order or check, to the mailing address listed on the form. You may want to opt for in person registration if you are pressed for time and need to secure South Carolina license plates as soon as possible.
Registration of leased cars
For leased vehicle registration, the lessor must complete Form 400's Section 4.
Registration for Foreign Cars
If you are a foreigner staying indefinitely in South Carolina and driving a vehicle from another state, you are exempt from applying for an SC vehicle registration as long as:
Your vehicle is presently registered in your state of origin
You have no leased property in SC
You don't drive your vehicle in SC beyond 150 days
Provisional Vehicle Registration in SC
Certain situations may warrant a provisional 45-day registration permit. You must get a 45-day Provisional Plates Application form, submit it to the DMV office in your locality, and pay a $5 fee.
Always remember to keep the following in our car while you drive with a provisional plate:
Your car's title or sale bill,
If applicable, the rental contract.
You will need to present either one or both of these papers if you are stopped by law enforcement officers for purchase date verification.
Vehicle Registration Transfer
Drop by any SCDMV location for an existing license plates transfer and submit:
Your insurance company's name. The SCDMV will verify your vehicle insurance electronically with them.
For used vehicles, the title that was signed-over to you:
You must present a sale bill if your title doesn't include the purchase information and odometer reading.
You may get a duplicate if you are unable to locate the title.
For newly-purchased vehicles, present a Manufacturer's origin certificate.
A completed Form 400.
SC vehicle registration and IMF payment fees.
South Carolina will permit you to process a transfer of license plates between vehicles on the purchase date. Until the registration of the plate with the new vehicle has been completed, you must always have with you:
The plate's registration certificate;
Sale bill.
You will need both documents if stopped by the police.
South Carolina Car Registration for Military Members
SCDMV exempts South Carolina residents who were disabled during their military service from submitting license plate payment fees. If you opt to take advantage of this waiver, you must follow the procedure listed under "vehicles purchased from or gifted by a private individual.
Additionally, you must provide supporting paperwork from the Veterans Office to the Veterans Affairs Administrator in your county, along with a 37 MV form or License Plate for Military Members Application form.
If you are eligible to obtain a license plate for the handicapped, your disability status will be reflected on your special handicapped war veteran license plate. If you are a South Carolina resident and was a POW, you may apply for a license at no extra cost for more cars. This advantage covers:
The Vietnam War;
The Korean War;
World War II;
World War I.
You must fill out and submit the License Plate for Military Members Application form, along with the standard vehicle registration prerequisites. If you need additional information, contact the SCDMV in your locality.
Fees for Vehicle Registration
Below is the list of fees for vehicle registration in South Carolina:
$40: Passenger vehicles,
$38: vehicle owners aged 64 years,
$36: car owners who are disabled or aged 65 years or older,
$10: Motorcycles,
$40: RV's,
$10: Transfer of license plates,
IMF: 5% of the sale price (capped at $500). You must pay this one-time payment fee during your initial registration.
Note: Owners with gifted vehicles are not required to pay for the IMF. Instead, you can complete Section G on the registration application form.
$250 IMF: (required of new SC residents during their initial registration in SC)
Fees for late car registration
$10: 46 days -60 days,
$25: 61 days – 75 days,
$50: 76 days – 135 days,
$75: Greater than 135 days.
South Carolina License Plates
During registration, you will be provided with a list of options for the type of license plate you want. Below are the categories:
Sports
Military
Universities and colleges
Organizations
Replacing a lost South Carolina License Plate
For stolen, lost, or damaged license plates that are barely readable, you will be responsible for having them replaced as soon as possible. You may request for a replacement plate online as long as the SCDMV has your current billing address and you're applying for the same type of license plate.
The online portal will require you to enter:
Your South Carolina vehicle registration certificate.
Your MasterCard, Discover, or debit card number to pay for the $6 replacement fee for each plate that needs replacement.
Other South Carolina Resources
South Carolina.gov - official government website for the state of South Carolina.
South Carolina Wikipedia Page - everything you need to know about the state of South Carolina.
University Of South Carolina - The University of South Carolina is home to more than 200 years of history and tradition, rising from a single building in 1805 on what would become the heart of the campus, the Horseshoe. The 11 buildings that now make up the Horseshoe frame a lush lawn that is an irresistible gathering place.