What's in this article?
Massachusetts Heavy Equipment Shipping BY A-1 Auto Transport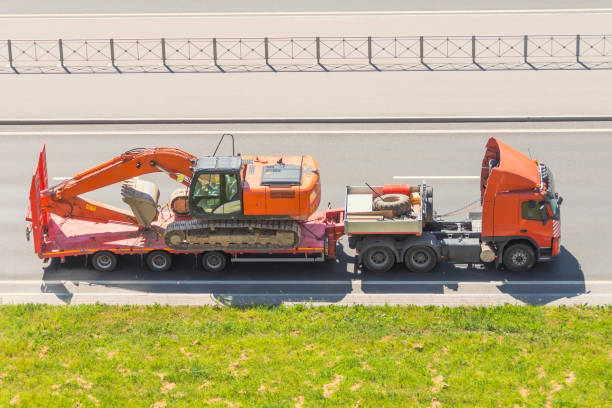 If you need to transport in Massachusetts, then you will realize quite fast the enormous work that goes into planning and executing such a job. Add to it the stress of hauling your precious cargo safe and you'll find yourself with a logistical nightmare on your hands.
But, by working with a reputable heavy equipment shipping company you can ensure a hassle-free process. A-1 Auto Transport is the right partner for Massachusetts businesses that need to ship their heavy machinery from one destination to the next.
Factors to Consider When Selecting Heavy Equipment Transport Company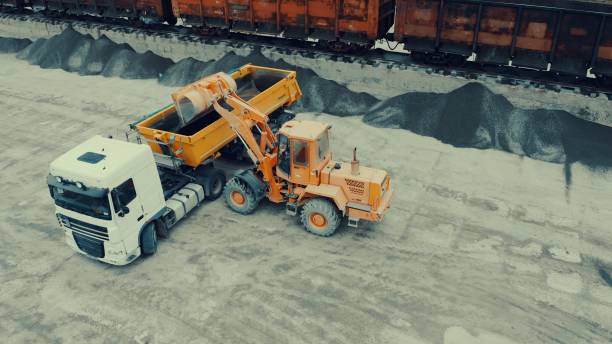 When selecting a Massachusetts heavy machinery transport company, there are several factors to consider for the successful and safe shipping of your valuable cargo.
Quality of Service
Quality of service should top the list, as you will want to ensure that your equipment is handled and transported with care. It's also important to consider the company's experience in shipping heavy machinery; how long they have been in business, number of transports done successfully, and customer feedback are all important factors when making a decision.
Area Served
The area served by the company should also be taken into account; look for companies that are able to cover nearly all forms of transportation between ports, and those that have an extensive range of destinations throughout the state. Massachusetts operates commercial ports along the Atlantic Ocean coast, as well as on Cape Cod Bay, Salem Bay, Buzzards Bay and Massachusetts Bay.
In addition to these ports, the state also has one international airport -Logan International Airport in Boston- and two primary airports located at New Bedford Regional Airport and Westover Metropolitan Airport in Springfield. Additionally, there are several smaller municipal airfields throughout the state that can accommodate light aircraft.
Max Width and Length
Finally, take into consideration the maximum width, length and weight of the shipment; most companies will have a max width of 8.5 feet, a max length of 53 feet and a max weight capacity of 48,000 pounds. For oversized equipment or heavy stuff that requires extra care in handling, look for a company that has the right type of trailer choices to best accommodate your shipment.
Experience and Reputation
It is also important to research a company's experience and reputation in the transport industry. Look for companies that have been operating for over a decade, with customer reviews or feedback about their service. Additionally, contact several professional transporters for a free estimate and ask them to detail the steps they would take for your particular shipment.
Personal Attention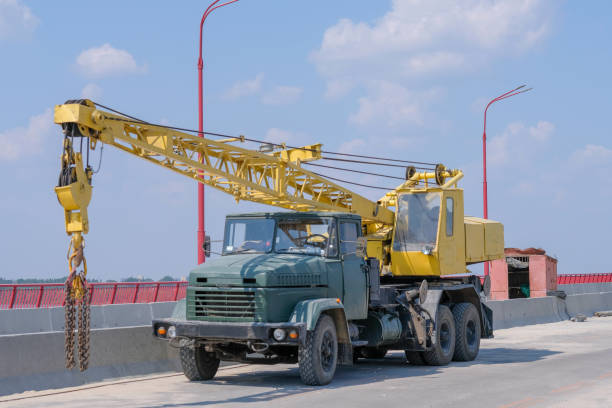 Look for a company that will provide you with personal attention when it comes to handling your shipment; one who is willing to answer all of your questions and advise you on what type of shipping options best suit your needs. You should also ensure that the company you choose is fully licensed and insured to handle transports, as this will provide peace of mind while your equipment is in transit.
Delivery Time
Finally, consider the delivery time offered by Massachusetts heavy machine transport companies. Many services can offer you same-day pickup and delivery to most locations within the state, while others may take longer depending on the distance of the transport. Be sure to get an estimate of how long it will take for your shipment to reach its destination before making a decision.
Additional Services
In addition to the factors above, look for companies that offer additional services such as heavy haulers for construction equipment, shipping of farm equipment, and even rental centers or auction houses where you can find the right trailer for your next shipment. Massachusetts is also home to many historic tourist spots and attractions that are popular with tourists, so look for companies that can handle transports to and from these locations.
Overall, selecting a heavy shipping equipment company requires careful consideration of the service quality, area served, maximum width and length limits, experience and reputation of a transport company, and personal attention to ensure the successful shipping of your heavy haul. With these factors in mind, you can be sure that your shipment will arrive at its destination safely and on time.
How to Prepare Your Heavy Construction Equipment for Shipping by Hauling Company
Shipping heavy construction equipment is no easy task, so it's important to be prepared before you work with a hauling company. Below are the key steps to take before you schedule a heavy equipment hauling service.
Measure Your Construction Equipment
Ensure to measure your construction equipment correctly and provide the exact dimensions to the shipping company. The dimension for some trailer types is max width 8.5 ft and max length 53 ft, but check with your shipping company for exact details. Also, make sure to know the maximum weight capacity of your equipment before shipping.
Inspect Your Equipment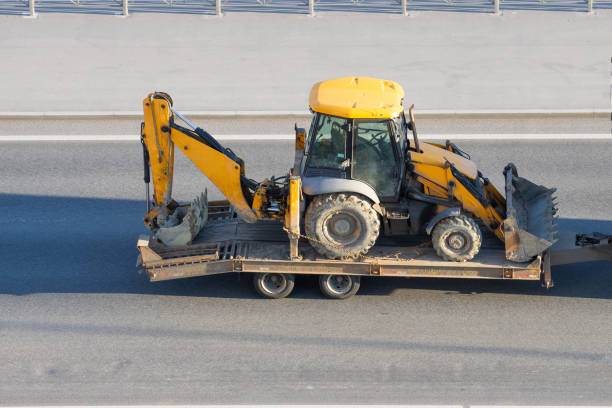 Carefully inspect your construction equipment for any damages or faults before arranging a pickup service. This will help prevent any unexpected costs for repairs.
Schedule Pickup and Delivery Times
Pick up and delivery times are an important factor when scheduling a long-distance hauling service. Check with the shipping company to decide on the right pickup and delivery times that suit your needs.
Drain All Fluid and Fuel
It's important to drain all fuel and fluid from your construction equipment before the hauling company arrives. This will help prevent any damage to your goods during transit.
Protect Your Construction Equipment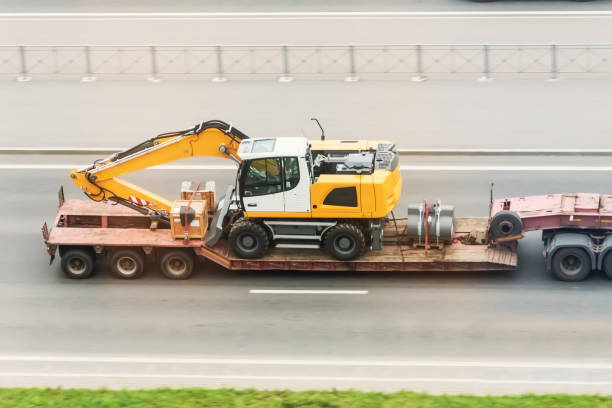 Make sure to secure, protect, and wrap all components of your construction equipment before shipping. This will help reduce the risk of damage during the transportation process.
Choose a Professional Transporter
Make sure to choose a professional transporter who has been in the industry for over a decade. They should provide free estimates and also have experience moving heavy construction equipment between different states.
Check Shipping Routes and Locations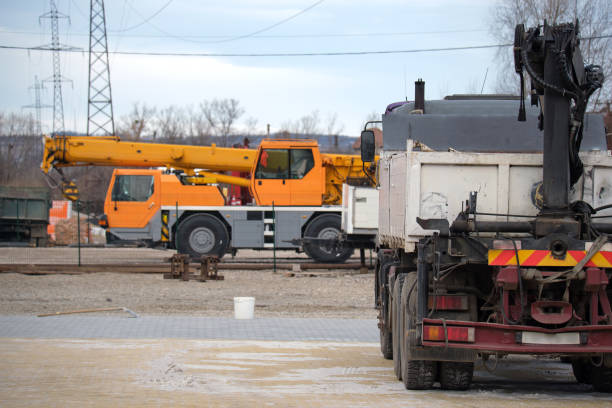 Finally, check all the shipping routes and locations that your hauling company operates in. This includes any ports, airports, and main interstate roadways in the area. For example, state operates commercial ports such as the Atlantic Ocean port of Massachusetts Bay, as well as Salem Bay, New Bedford Harbor and Fall River.
These ports are connected to Logan International Airport and West Springfield's Rental Center via major highways. Further, New Hampshire's primary airport and the western third of Cape Cod are connected to Massachusetts Turnpike and Mass Pike.
Choose the Best Trailer for Your Equipment
Different types of trailers can be used for shipping construction equipment, depending on its size, shape, weight and special requirements. Work with a hauling company that can provide you with the best trailer for your equipment and ensure it reaches its destination safely.
By taking these steps, you can help ensure that your heavy construction equipment is transported safely and securely by a professional shipping company
Massachusetts Heavy Equipment Pricing & Time To Ship Examples
| Shipping To/From Massachusetts | Cost | Distance | Estimated Time In Transit |
| --- | --- | --- | --- |
| Massachusetts to New Haven | $2177 | 1244 miles | 4 - 6 days |
| Massachusetts to Miramar | $2585 | 1477 miles | 4 - 6 days |
| Massachusetts to Hampton | $1935 | 1106 miles | 4 - 6 days |
| Massachusetts to Orange | $3024 | 1728 miles | 5 - 7 days |
| Thornton to Massachusetts | $1673 | 956 miles | 3 - 5 days |
| Charleston to Massachusetts | $1295 | 740 miles | 3 - 5 days |
| Bellevue to Massachusetts | $1220 | 697 miles | 3 - 5 days |
| Corona to Massachusetts | $343 | 196 miles | 2 - 3 days |
Contact us now for a free quote.
Insurance For Hauling Heavy Equipment In Massachusetts
Your worries don't stop after your machinery has been hitch up to the flatbed trailer. Your heavy equipment also needs proper insurance. But, that's often easier said than done. While federal law mandates that all hauling companies offer a minimum of $100,000 worth of insurance, the reality is that the level of protection you get differs from company to company.
At A-1 Auto Transport, we understand just how stressful shipping heavy equipment can be, so we've created a comprehensive insurance plan for our clients. That's how you can rest assured that your cargo is protected even if something goes wrong.
Types of Equipment We Ship in Massachusetts
Heavy equipment comes in a variety of shapes, sizes, weights, and so on, and all these variables can influence how you plan the entire hauling process.
At A-1 Auto Transport, we've handled heavy equipment from various industries, from agricultural to industrial or the construction industry.
Here's just a glimpse of the type of equipment we can ship in Massachusetts:
Bulldozers
Engines
Tractors, combines, and farm equipment
Backhoes and excavators
Engineering & agricultural equipment
Trenchers and scrapers
And more!
If you have any questions about our services or want to get a free quote, reach out to our friendly customer service team now