What's in this article?
Car Transport Kentucky (KY) Near Me
People headed to Kentucky for any reason are always delighted when they get a glimpse of the infamous Blue Ridge Mountains that line the state. The peaks and valleys associated with the Blue Ridge Mountain range – as well as the Blue Ridge Parkway that runs in, alongside, and throughout these mountains – are a natural sight to behold. It is almost a prerequisite to have your vehicle so that you can truly enjoy the offerings of the Bluegrass State. The Appalachian Mountains bound Kentucky in the east and the Ohio River in the North.
From the inner Bluegrass regions boasting horse farms as far as the eye can see to Black Mountain, which is the highest point in the state, and beyond, there is plenty to experience in this mountainous state. The state's largest city is home to Kentucky Derby, Churchill Downs and is bound by the Ohio River.
Cost & Time To Ship Your Car Examples
| Shipping To/From | Cost | Distance | Estimated Time In Transit |
| --- | --- | --- | --- |
| Ironville to Louisville | $188 | 188 miles | 1 - 2 days |
| Lexington-Fayette to Nashville | $215 | 215 miles | 2 - 4 days |
| Chicago to Lexington-Fayette | $374 | 374 miles | 2 - 4 days |
| Louisville to New Orleans | $530 | 707 miles | 3 - 5 days |
| Florida to Kentucky | $646 | 861 miles | 3 - 5 days |
| Kentucky to Colorado | $763 | 1271 miles | 4 - 6 days |
| Phoenix to Kentucky | $1090 | 1817 miles | 5 - 7 days |
| Kentucky to Las Vegas | $1172 | 1953 miles | 5 - 7 days |
| California to Kentucky | $1154 | 2308 miles | 6 - 8 days |
| Kentucky to Seattle | $1212 | 2424 miles | 7 - 9 days |
*Prices and times are estimated. They can vary depending on the season and what type of vehicle you are shipping.
Car Delivery Service Near Me
Kentucky Car Shipping Companies Near Me
Are you looking for Kentucky auto transport companies near you? Life circumstances change every day, such as job relocation, military base change, or adjusting the lens for a new view. Part of these changes may require you to get an auto transport service to your new destination. Whether it's a classic car, a motorcycle, a business truck, or the like, Kentucky auto transport company is ready to help. Our Kentucky auto transport companies are industry leaders offering car shipping services all over the US to help customers ship their cars with confidence.
Shipping a car is not an easy thing to do; you need enough room to turn around or maneuver narrow streets or low-hanging trees. A driver we assign you will ask you to meet them at a huge parking lot like a grocery store before the delivery process begins.
Tips For Using Kentucky Auto Transport Companies
When you are looking to book Kentucky auto transport services, keep the following tips in mind.
Plan for the type of auto transport service you want: The purpose of Kentucky car shipping is to ensure that you have a vehicle to see the sights such as the Mississippi River and all other exciting sights throughout the Bluegrass State. However, depending on the type of car you plan to ship, you need proper planning. You still may need to match your car with your activity. For instance, you can't drive a sedan through rocky terrain at the bottom of a mountain and risk getting stuck; for those purposes, you may need to ship a car capable of handling whatever activities you've got in mind. Kentucky auto transport service has car shipping experts ready to help customers in need of Kentucky auto transport services.
Look at a map and pinpoint points of interest along the way: There is so much to see when tooling around in your car throughout the state of Kentucky, so if you don't plan it out ahead of time, you may miss some of the most interesting aspects of Kentucky. Look at a map and make a list of points you want to visit before auto shipping a car. That way, you will be aware of any possible tight turns to keep the truck driver in the know.
Find the nearest pick-up or drop-off depot: Kentucky is full of small towns and unincorporated areas. Depending on where you are planning to move or visit, you may need to do some pre-planning before embarking on your journey to ensure that the place you need to ship vehicles or pick them up is within a decent distance from your specific location.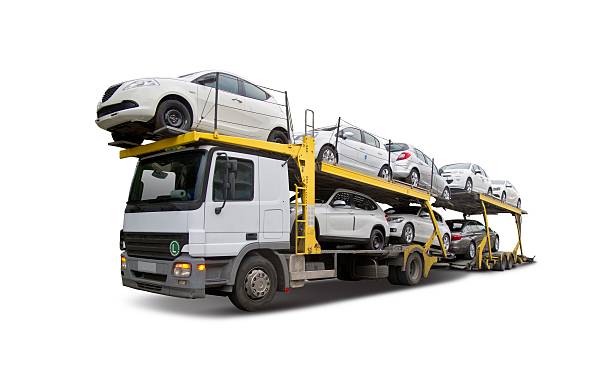 There is plenty to see and do in Kentucky. Using the Kentucky auto transport service to ship your vehicle to or out of Kentucky is just the first step to having the mobility to experience the state fully. Visit the Kentucky Department of Transportation website for more information on Kentucky and the beautiful natural scenery for those visiting or relocating to the state. Whether you're new or experienced in car transportation, the Kentucky car shipping company will help you calculate the cost of open carriers and enclosed carriers.
Visit the Kentucky Department of Transportation website for more information on Kentucky car transport services.
Long Distance Auto Transport to/from Kentucky
There are several ways to ship a car over long distances, including driving it yourself or hiring a driver to drive it to its destination. However, both options are time wasteful and expensive; this is why you need an auto shipping company to do the job for you.
Fuel, hotels, and meal costs add up to an uncomfortable sum. But, with an open carrier, they become much more manageable. Because our car carriers transport up to 12 cars at a time, we can afford to lower costs of your Ky car transport services, even reducing the price to below $500 depending on the case.
If you wish, you may calculate the approximate cost of driving the car yourself, then call us for your Ky auto transport services and get an instant quote. You'll be pleasantly surprised how affordable an auto shipping company is compared to other options. Kentucky auto transport is experienced in moving heavy equipment.
International Auto Transport from/to Kentucky
Many situations can arise when going through customs; you will find it difficult to complete the process if you're not experienced in offering Ky car shipping services. You may be lacking the necessary paperwork, or the car shipping delivery may be delayed.
You can avoid these problems and many others by hiring a Kentucky auto transport company with experience in this field. Kentucky auto transport company staff know exactly what paperwork you need to present at the border and advise you appropriately. Once you sign a contract with a Kentucky car shipping company, you will be assigned a truck driver, and all that matters regarding the shipment become our concern so that you can focus on other tasks ahead of your journey. You don't have to worry about the narrow streets when you can use Kentucky car transporters. The East South Central region car transporters have been accredited with an A+ rating by Better Business Bureau.
Cheap Car Transportation Options in Kentucky
You may be thinking of using our discounts or seasonal offerings to reduce your Ky auto transport costs, but there are other ways to do it as well.
All our auto shipping companies are made with either open or enclosed carriers. Enclosed carriers offer more protection against the elements, and because of their low carrying capacity, they arrive faster at their delivery location. However, the Ky auto shipping services option is more expensive to book and is generally used for high-end deliveries. For a more economical auto transportation service, you may want to use an open carrier.
We also recommend taking advantage of our terminal system to cut costs further. They are placed throughout the US, so there's probably one Kentucky car shipping company near you. Because picking/delivering cars in a central location reduces the company's expenditures, this car shipping service is also lower.
Shipping Luxury and Classic Cars in Kentucky
Are you planning to ship vintage or luxury automobiles to Kentucky? There are two major transport methods to choose from: open and enclosed auto carriers. Open carriers are less expensive and an efficient way to ship several vehicles at once. On the other hand, an enclosed auto transport service moves cars in a covered trailer. It protects against weather elements such as rain, sun, snow, and the like during delivery.
Although easier to book due to its high demand, open auto trailers carrying multiple vehicles need to drop off other vehicles at other locations. If you're shipping classic or exotic cars to Kentucky, you probably want them to arrive on schedule. It might be more costly, but since the cars are not exposed and carried only in one or two's, your car or cars may arrive much faster. There is also a lower risk of theft and minor car damage during auto transport.
Kentucky Special Discounts
If you're part of the military and would like to transport a POV, you can benefit from one of our special discounts to cut down on costs. We've also prepared discounts for students and seniors who need our Ky car hauling services. Depending on the season, there may even be seasonal discounts you can use to ship your car even cheaper.
Kentucky Auto Transport Services Auto Safety Measures in Kentucky
A reliable auto shipping service relies on safe delivery of autos without incident. Kentucky Car Transport places a premium on your safety as a result.
However, if you're utilizing reputable, up-to-date shipping companies and taking the appropriate precautions, your package shouldn't encounter any major problems along the way. During the auto shipment, the worst that could happen would be a dent to one of the vehicles from flying debris or poor weather. Since auto shipping insurance covers accidents, you can file a claim if your vehicle is damaged.
Services And Information
How to Request a Price Estimate
Our phone line is open 24/7 for any customer who needs to calculate the cost or anything else. The number is listed at the top of the Kentucky auto transport company. Besides this, all our auto transport Kentucky companies have an online form prepared for the same purpose.
Simply add in your details and click on "Calculate Cost." You will be redirected to a second page in which a few more details will be required. Complete the fields and click on "Get Quote" to receive the cost estimate.
Kentucky Auto Transport Companies Directory
DMB Transport
DMB Transport has a reputation in Louisville and around Kentucky for shipping cars with speed and efficiency while delivering on solid customer service principles. DMB auto transport can get your vehicle in or out of Kentucky safely with their open and enclosed trailers at an affordable price, from motorcycles to sedans, SUVs, vans, boats, and more. Licensed, bonded, and insured nationwide shippers. Book your Kentucky auto transport service online today and get your car to Kentucky or from Kentucky.
4606 Shepherdsville Rd Louisville, KY 40218
502-410-2040
Scott's Dispatch-4-U-Service
This auto transport company prides itself on offering Kentucky auto transport 24 hours a day, seven days a week, no matter the need. From individuals in need of car shipping services to large dealers or organizations that need mass transport, Scott's is a Kentucky-based company that can serve your vehicle's transport needs with their fleet of auto transport carriers.
108 W Maxwell Stanford, KY 40484
606-669-4402
Edge Transportation & Logistics
No matter what vehicle type you need to be moved to or where you need it to be moved within the United States, this Kentucky auto transport company can get it done. Based in Burlington and serving the entire Kentucky and southern Ohio region, this Kentucky car shipping company is affordable and offers solid Kentucky car transport options. Customers' reviews are usually positive; see their BBB accredited ratings and what customers say about the car transporters.
1589 Production Dr. Burlington, KY 41005
859-647-3343
Vehicle Registration in Kentucky
To drive legally on the roadways of Kentucky, you have to register your vehicle at the Transportation Office properly. All new vehicles or property of new residents must be registered at the office of the county clerk. Owners of already registered vehicles have to keep their registration current and apply for renewal in due time.
Owning a car insurance policy from a Kentucky-approved company is mandatory to register a vehicle. The insurance policy must be maintained with the proper coverage for the life of the vehicle.
Car Registration Process for New Kentucky Residents
New residents have a grace period to register their vehicles at the office of the county clerk of 15 days since their installment by submitting the following documents:
A vehicle inspection certificate approved by the county sheriff
A fully completed registration form
The original car title from your state of origin
Your current registration certificate
Proof of car insurance valid in Kentucky
A picture ID or driver's license
Receipt of payment for taxes from the previous state
Proof of payment for the taxes and fees of registration Kentucky
How to Register a Leased Vehicle in Kentucky?
If you just moved to Kentucky and you own a leased car, you must submit the following documents to the office of the county clerk:
A VIN certificate validated by the sheriff of the new county
A document from the company that holds the lease stating you are allowed to get the vehicle registered
The contact details of the company that holds the lease, because the clerk's office will have to obtain the car's title information
A fully completed standardized form of registration
A car insurance policy valid in Kentucky state
A document with the leasing company's letterhead stating the sales tax was paid
A picture ID or driver's license
Proof of payment for all Kentucky taxes and registration fees
When you purchase a vehicle, you can apply for a title and registration in Kentucky simultaneously. Depending on the title type the car has and the provenience of the vehicle, you may have to follow a different process for registration.
Registration of Vehicles Purchased from Car Dealerships
If you purchased your car from a dealership, you have to submit the following documents at the office of the county's clerk:
An origin certificate in your name from the car manufacturer
A document of inspection certified by the county sheriff
A fully completed application form
An identification card with a picture
A valid Kentucky car insurance policy
The social security numbers for the owners stated on the car's title
The lien statement, if the car has a lien
The proof of payment for all taxes and fees of registration demanded by the state of Kentucky
Registration of Vehicles Bought from a Private Individual
If you purchased a car that is titled in Kentucky state already, you have to submit to the office of the county clerk the following documents:
The title of the vehicle
The proof of a Kentucky car insurance policy
Your social security number
The proof of payment for Kentucky taxes and fees of registration
Registration of a Foreign Car in the State of Kentucky
You can register in the state of Kentucky vehicles from foreign countries if you have the mandatory forms from the United States Customs filled. Kentucky mainly registers vehicles from Germany, Canada, and Switzerland – each car comes with a valid registration document from the county of origin.
You may register vehicles from other countries, but be wary of consulting the office to learn necessary documentation. Remember to have all papers translated into English.
Kentucky Car Registration for Military Members
The registration process differs for military members, whether they are residents of another state or Kentucky residents.
Out-of-state military members: If you claim to be from another state or country but are stationed in Kentucky, you are not obliged to get your car registered. However, if you wish to get your car registered in Kentucky, you must undergo the usual registration process.
Kentucky residents stationed in the same state: Military members that are Kentucky residents must submit themselves to the same car registration process as the civilians.
Residents of Kentucky are stationed in other states: If you're a Kentucky resident and serve in the military in another state, you can keep registering your vehicles in Kentucky. To do so, you have to submit these documents to the clerk's office:
A fully completed registration application
The title of the vehicle
Proof of car insurance valid in Kentucky state
Documentation of a car inspection
Documentation proving your active duty status
Your military orders stating your permanent station and any other legal document the clerk's office might ask for
Registration of Cars Bought from Overseas
Military members considering taking a vehicle from overseas and bringing it to Kentucky will have to register the car during a grace period of 30 days after their return by submitting the following paperwork:
A completed application form
The certificate of origin, the foreign car title, and the foreign registration
A final inspection report
A Kentucky car insurance policy
Proof of payment for all taxes and registrations fees
Fees for a Vehicle Registration in Kentucky
To register your vehicle in the state of Kentucky, you will have to pay a series of fees, such as a title fee or a fee for a title lien statement, a transfer fee, an annual vehicle registration fee, a vehicle inspection, a notary fee, and a usage tax. Depending on the status of your vehicle, your residency, and your county of provenience, the total fees, and taxes, as well as their value, might differ.
Contact your county clerk to determine what taxes you will have to pay to register your vehicle in Kentucky.
How to Register in Kentucky a Custom-built Car?
Before you can register a custom-built car in Kentucky state, you have to obtain a VIN by submitting these documents to the DMV office in your local area:
Invoices and receipts for any labor and all parts purchased
Title certificates for all major parts that were taken from older cars
A notarized document that states what processes the car has been through
A fully completed application form for a VIN
After receiving the VIN, you will have to submit the car for an inspection at the sheriff's office. Next, you will receive a notice of approval; you will submit it to the county clerk's office, who will send you the title certificate. You will then be able to use the car's title to apply for registration within Kentucky state.
Car inspection in Kentucky: Before having a vehicle registered for the first time, you must apply for a VIN inspection. However, you are not obliged by Kentucky state to get emissions or safety inspections.
How to Receive a Duplicate of Your Car Registration in Kentucky
Given that it is mandatory to keep your registration documents in your car at all times, you will have to apply for a duplicate if your former form is destroyed, lost, or damaged.
You can request a registration duplicate by submitting the following paperwork:
A form for replacement was notarized and signed
Picture identification document or driver's license
Proof of a Kentucky car insurance policy
Proof of payment for the duplicate fee
License Plates for Kentucky Registered Vehicles
When you transfer a title from outside of the state or country or buy a new car, you receive new license plates. Kentucky state license plates aren't changed from the car sold to someone else or bought from another person.
Please note that specialty plates or personalized plates are available to anyone for an additional fee.
Other Kentucky Auto Transport Helpful Links
Kentucky.gov - official government website for the state of Kentucky.
Kentucky Wikipedia Page - everything you need to know about the state of Kentucky.
University Of Kentucky - The University of Kentucky is a public, land grant university dedicated to improving people's lives through excellence in education, research and creative work, service, and healthcare. As Kentucky's flagship institution, the University plays a critical leadership role by promoting diversity, inclusion, economic development, and human well-being.
Kentucky State Parks And Recreation
Kentucky State Parks And Recreation
Frequently Asked Questions
How do I ship my car to or from Kentucky?

Shipping a car doesn't have to be confusing or difficult.  In fact, with a few bits of information, it's no more complicated than sending a parcel.  Begin by identifying where the auto transport is shipping from and where it's going. Is this Louisville, Lexington, Bowling Green, or a location outside of Kentucky? Contact Kentucky Auto Transport services for a no-cost, no-obligation auto transport quote with this information in hand.  You can click for an online quote or just give us a call at 888-230-9116. Our auto transport experts will get right to work!
What are extra services available for using Kentucky auto transport?

Most of the time, your car will be shipped via an open trailer so that it will come in contact with the weather and any road debris.  With this in mind, you may want to consider enclosed carriers for enhanced protection of a new or particularly valuable vehicle.  Another popular option is the door-to-door Kentucky car shipping service which offers the convenience of scheduled drop-off and pick-up times for your delivery.
How much does it cost to ship my car to or from Kentucky?

The cost to ship your car will depend on distance and vehicle type. Let's say you're sending a mid-sized SUV from Louisville to Paducah.  This request might cost $250, but shipping a large pick-up from Georgetown to Los Angeles will run about $1,200.  An A-1 Auto Transport advisor can give you complete information or get a free online quote.
Are there any cost-saving options for shipping my car?

Of course. Our car auto transport experts are happy to recommend ways to save money. We'll never sacrifice quality service, so reducing costs involves adjusting distance or delivery time.  So, consider using terminal-to-terminal shipping instead of door-to-door service. This consists of dropping off and picking up your vehicle at the closest freight terminals. Another way to lower costs is using a standby car shipping service which involves waiting up to a few extra days for the next available slot.
How do I prepare my car for shipment?

Take a few easy measures to prepare your car for shipping.

Check operating condition:  Your vehicle should start and run without any issues, so no delays or problems during auto transport.  At the same time, check tire pressure and battery condition. Also, there should be no engine or transmission leaks.

Secure loose items:  Remove or tighten any loose exterior trim or antennas that may get damaged during auto transport.

Clean your vehicle: Before the auto transport, thoroughly wash your car to make it easier to identify any pre-existing nicks, scratches, or damage.

Empty fuel tank:  Your vehicle will only be briefly driven during auto transport, so the fuel tank should be no more than one-quarter full.

Keep extra keys: Give one set of car keys to the driver of the auto transport company and keep an extra set just in case. Don'teave makes duplicate keys (if needed) until the last minute.

Take out important objects:  Remove any expensive gear, like a non-integrated GPS unit or audio devices, before shipping the vehicle.  In addition, grab any parking passes and essential documents. And, remember to take out any toll transponders to prevent surprise charges during auto transport.

Photograph the car:  During hand-off to the transport company, take a complete set of exterior and interior photos of your vehicle. You'll picture its condition before shipping so you keep the record in case there is a problem at the end.
How long will it take to ship my car to or from Kentucky?

A car delivery within Kentucky or to neighboring states usually takes two to three days.  Car shipping service to the West Coast, for example, can run up to ten days.  These timeframes can be affected by bad weather, the time of year, and other factors.  For example, a car shipment to or from Louisville may be delayed if it happens during the Kentucky Derby weekend. 
Who regulates car auto transport companies in Kentucky?

Car shipping companies in Kentucky are overseen by the Transportation Cabinet Division of Motor Carriers. Also, car auto transport Kentucky companies that operate in more than one state or use larger trucks are regulated by the Federal Motor Carrier Safety Administration, part of the US Department of Transportation (US DOT).
How can I check if the Kentucky auto transport company is licensed?

Contact the Division of Motor Carriers at 502-564‐1257 or check permit status online. Federal status can be viewed online at the US DOT website for auto transport Kentucky companies with interstate operations or larger transport vehicles.
How do I file a complaint against a Kentucky auto transport company?

For complaints about an interstate car shipment or a company that uses larger vehicles (over 10,000 lbs), reach out to the US Department of Transportation for complaints about an interstate car shipper or a shipper that uses vehicles over 10,000 lbs.