What's in this article?
Kansas City Heavy Equipment Shipping Services by A-1 Auto Transport
Heavy equipment shipping in Kansas City doesn't have to be a struggle. Whether you need to move your machinery from Kansas City locally or to nearby Kansas or Missouri – or even across the entire country – A-1 Auto Transport is here to help. As expert heavy haulers in Kansas City, we can handle jobs of any type or size, no matter your industry or the complexities of shipping your equipment. Get a quote for shipping your equipment in Kansas City now.
Kansas City Heavy Equipment Pricing & Time To Ship Examples
| Shipping To/From Kansas City | Cost | Distance | Estimated Time In Transit |
| --- | --- | --- | --- |
| Kansas City to El Paso | $1647 | 941 miles | 3 - 5 days |
| Kansas City to Fresno | $3050 | 1743 miles | 5 - 7 days |
| Kansas City to Colorado Springs | $1027 | 587 miles | 3 - 5 days |
| New Orleans to Kansas City | $1486 | 849 miles | 3 - 5 days |
| Henderson to Kansas City | $446 | 255 miles | 3 - 5 days |
| Kansas City to Pittsburgh | $1486 | 849 miles | 3 - 5 days |
| Kansas City to Chandler | $579 | 331 miles | 3 - 5 days |
| Kansas City to Spokane | $2728 | 1559 miles | 5 - 7 days |
Insurance For Hauling Heavy Equipment In Kansas City
All heavy equipment shipping companies in Kansas City and nationwide must carry insurance for your shipment due to federal law. But these coverage limits are often not enough to cover the full value of your equipment, particularly if it's specialized and expensive.
For this reason, additional insurance is almost always recommended by A-1 Auto Transport to make up for any gaps in coverage. The risk of in-transit damage or loss is low, but it's still not worth taking chances when it comes to mission-critical, valuable machinery. Get a quote and explore additional insurance options at A-1 Auto Transport today.
Types Of Equipment We Ship In Kansas City
From small, local equipment shipments in Kansas City, to large, oversize loads that are being shipped across the entire country, A-1 Auto Transport is up for the job – no matter what. We frequently ship a wide variety of heavy equipment including:
Graders and track loaders
Skid steers and forklifts
Bulldozers and excavators
Backhoes and dump trucks
Hydraulic and engineering equipment
Engines and generators
Pile drivers
Track loaders and graders
Scrapers and trenchers
And more. Need help with heavy hauling in Kansas City? Just contact us online or call (888) 230-9116 for a no-commitment quote.
How to Prepare Your Heavy Machinery for Reliable Service by A-1 Auto Transport
A-1 Auto Transport is a reliable choice when looking to get your heavy machinery shipped in a timely manner. Our fully licensed and insured team can provide free estimates and same-day loading of your equipment as soon as you need it - wherever that may be! Shipping out of Junction City or super loads across the country, you can count on our reliable service for each and every shipment.
Whether you need commercial vehicle hauling, long distance transport, or cargo delivery, look no further than A-1 Auto Transport for the best equipment hauling experience around.
Factors to Consider When Selecting Kansas City Heavy Equipment Transport Company
Reputation
Reputation: The first factor to consider when selecting a Kansas City heavy equipment transport company is the company's reputation. It's important to do your research and check reviews to make sure you're dealing with a professional and reliable service provider.
Cost
Cost: While cost should never be the only deciding factor, it is certainly important to consider. Look for a company that offers fair prices for their services.
Quality of Service
Quality of Service: The quality of service provided by the transport company is another significant factor to consider when selecting a provider. Make sure they have adequate insurance coverage and provide reliable, safe shipping methods.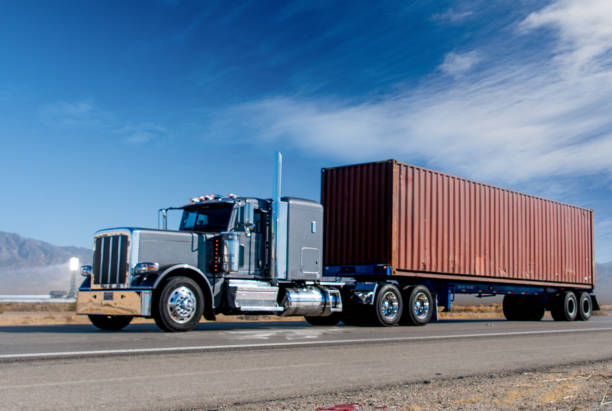 Delivery Times
Delivery Times: When it comes to moving heavy machinery, it's important to have an estimate of delivery times for your shipment. Make sure the company can provide you with a realistic timeline for when your equipment will be delivered.
Flexibility
Flexibility: Another factor to consider when selecting a provider is their level of flexibility in terms of accommodating special requests or changes in transit.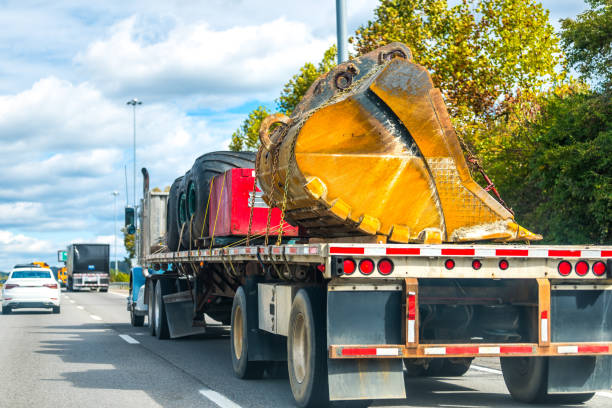 Support
Support: Good transport companies should also offer excellent customer service and support throughout the process.
Certification
Certification: Finally, you should look for a provider that is certified to transport heavy machinery, as they will have the necessary safety procedures in place to ensure your shipment is handled properly.
7 Tricks to Reduce Your Estimate When Shipping Heavy Equipment
Moving heavy equipment can be a challenging prospect, but there are ways to reduce your shipping costs. Businesses looking to save money on transporting heavy vehicles should plan ahead, look for discounts and pinch pennies. If you're unsure of the load's weight or size, get an accurate free estimate before scheduling your next shipment. Taking the extra mile and organization can result in major savings.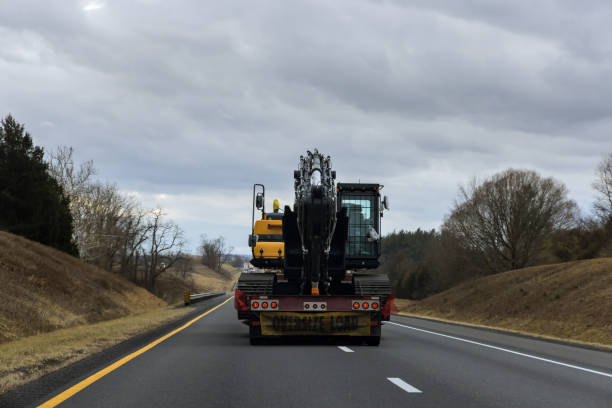 Consolidating shipments into one instead of multiple loads, researching transportation options such as El Dorado or heavy vehicle transport provider, and packing lightly are all easy tricks that can help to keep costs low. By staying organized and taking these steps, businesses can save time and money when shipping heavy vehicles.