What's in this article?
Safe And Reliable Arkansas Motorcycle Shipping Services By A-1 Auto Transport
Motorcycle shipment to the state of Arkansas is a simple enough task for anyone. If you are trying to ship a vehicle to the home of Little Rock, consider all of your options and find the one to best suit your needs and budget. Arkansas is a beautiful state with the relatively consistent nice weather, perfect for bikers. Make sure that you check out the Arkansas motorcycle laws before hitting the road.
Tips and Advice for Motorcycle Shipment
Pay close attention to the kinds of shipping available to you for motorcycles. Enclosed shipping and open shipping are two that many tend to select. There is also crated shipping. This method will require that the motorcycle is drained of all fluids and will also need the battery disconnected. It is then placed on a wooden pallet and placed inside a closed container.
Almost all other motorcycle shippers will offer insurance for shipping. It is always best to consider this. If for any reason damage were to occur to the bike during shipment, it will be covered under the insurance. While shipping is typically safe and reliable, it's always best to have that extra assurance that the bike is cared for.
There are specific instructions that many motorcycle transport companies will give a motorcycle owner prior to shipment. You can also get this rules in their online form, it is important to follow these rules in order to ensure a safe shipment to Arkansas.
When shipping a motorcycle, remove any loose or unnecessary items from the bike.
Clean it. Make sure there is no dirt or debris before handling it over to the assigned carrier.
Check the gas tank and make sure that it isn't above a ¼ of a tank.
Check all other fluids.
Check the battery and the tires.
If the motorcycle has an alarm, please make sure that it is disconnected.
Take photos and inspect the bike for damage before shipment occurs. Keep documentation and proof for yourself just in case the carrier network disappoint.
Why use A1Autotransport for Motorcycle Shipping
Easy to use platform: With A1Autotransport, you can easily book your motorcycle shipping service with just a few clicks.
Fast and reliable services: Our experienced team of motorbike experts are dedicated to providing a quick and reliable service so you can have peace of mind till your bike gets to your final destination.
Comprehensive coverage: We offer nationwide coverage, so you can get your motorbike shipped to and from any location across the US.
Affordable prices: In the motorcycle shipping industry, we offer competitive rates for our motorcycle transport services and strive to provide customers with the best value possible.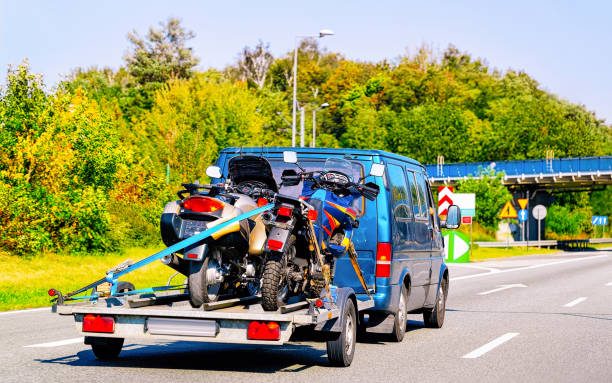 Professional team: Our experienced team of professionals is committed to delivering high quality motorcycle transportation services while ensuring customer satisfaction during the entire shipping process.
Secure transport: As one of the best professional motorcycle shippers, we use only the best and latest equipment to ensure your motorcycle is safe and secure during transit.
Door-to-door delivery: We offer door-to-door shipping services for added convenience, so you don't have to worry about pick ups or drop offs from innermost Fort Lauderdale or New York Little Rock.
How to Ship Your Motorcycle to Arkansas
If you're looking to ship your motorcycle to Arkansas, there are a few things you should know. Shipping your motorcycle can be a complicated process, but with the right tools and resources, it can be done quickly and safely. That's why it's important to do your research and find the best motorcycle shipping services for your needs.
First and foremost, you'll need to decide how you want to ship your motorcycle. Do you want it shipped by land, air or sea? There are pros and cons to each method of shipping, so make sure to do your research and determine which one is the best option for you. For example, if you choose ground transportation services, make sure to check the speed, safety and reliability of the company you choose.
Next, you'll need to decide on a shipping provider that can handle your motorcycle shipment. When it comes to shipping a motorcycle, you want an experienced service that has a good track record with customers. It's also important to make sure they offer services like insurance coverage and package tracking, so you can always keep tabs on your shipment.
Finally, make sure to prepare your motorcycle for shipping. This includes draining all fluids, disconnecting the battery, and taking photographs of it before sending it off. Once all that is done, you're ready to pack your bike in a secure box or crate and book the services of your chosen shipping company.
By following these steps and doing your research, you can ensure that your motorcycle will be shipped safely and securely to Arkansas. With the right provider, you can rest easy knowing that your bike is in good hands!
A-1 Auto Transport Ships Worldwide.
Get a Free, No Obligation to Buy, Motorcycle Shipping Quote.
Get my free quote now
or call us to do it for you:
Arkansas Shipping Companies for Motorcycles
Auto Transport
3207 E. Nettleton Ave.
Jonesboro, AR 72401
(870) 932-1186
Valet Auto Transport
125 Main St.
Piggott, AR 72454
(870) 544-2000
Miller Auto Transport
410 200 River Market Ave.
(501) 358-3061
First Class Auto Transport
100 120 E. 4th St.
(501) 404-9780
Useful Links
Arkansas Department of Transportation
Popular Destinations: