Even with the help of an experienced broker, it can be hard to wrap your head around the various aspects of an international car shipment. However, although there are many details you should pay attention to, the following 12 are by far the most important. 
1- Check the shipping requirements of the country you're going to
Legislation and laws pertaining to vehicle importing may differ depending on the country and the part of the world you're shipping to. It's highly important you and your shipper research these regulations, so your car can pass easily without being detained.
In some cases, there may even be restrictions that make importing a car impossible or extremely expensive. Therefore, researching this topic should be among the first things you do.
2- Verify car safety standards in the new country
A car you can legally drive in the US may be considered a safety hazard in another country and vice versa. Each government has its own regulations on automobile safety, and not conforming to them may make it illegal to use your car.
In some cases, you may only need to make small changes or none at all. However, if extensive modifications are needed, you should find out first if you can afford the cost.
Similarly, there may be different emission standards in the nation you're shipping to. It's best to create a list of all the necessary modifications, and then check if they're within your budget.
3- Prepare the car for transportation
Like all items going past the border, your vehicle will be checked by customs. If it doesn't meet their regulations, it will not pass through. 
For example, dirty automobiles have the potential to transport microbes and tiny bugs to foreign environments. Because of this, your vehicle can be detained at the border if it's not cleaned properly, including the undercarriage.
As for the transport itself, if your car isn't in running condition, you must either fix it or let the shipper know. You should check the tires to make sure they're inflated, add the right liquids, and fill only a quarter of the fuel tank for safety reasons. 
You cannot transport your other belongings within the trunk or on the seats. They may damage the car's interior and they may not be approved by customs.
Finally, quite often owners forget to disable the alarm. If it starts working in the middle of the highway, it can distract the driver and cause an accident. Therefore, disabling it is one of the most important steps when preparing your car.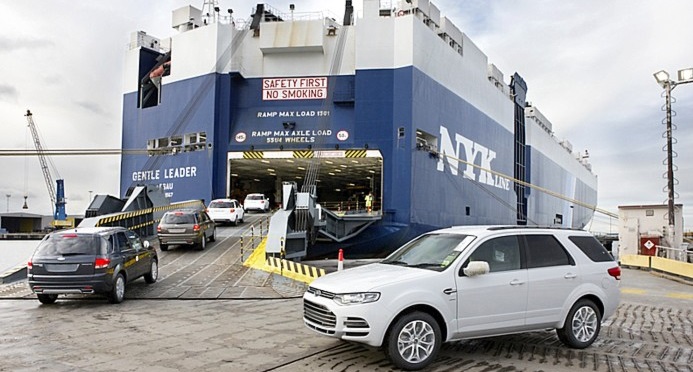 4- Obtain sufficient insurance
Insurance is your only safety net in case your vehicle is involved in an accident. Auto transport companies will provide it in order to conform to US laws. However, they are not required to ensure the entire value of your automobile.
Therefore, you should check just how inclusive their insurance policy is. It may vary from company to company. Furthermore, you should decide whether getting more insurance is worth the extra cost. You can increase your insurance coverage through a third party, but you'll have to pay for it.
If you're not in a particularly fortunate financial position, then it may be better to trust the shipper and use only their insurance policy. If you've done your research, then the chances of an accident occurring are very low.
However, if you can afford it and your vehicle is particularly expensive, then it may be worth it to go the extra step. Some auto transport companies offer higher insurance limits as part of their premium services, so you may also be able to handle the issue without going to a 3rd party.
5- Work with established and reliable shipping companies
International auto or motorcycle shipping cannot be mastered overnight. Because of this, the more experience your company has with such transports, the more likely they are to offer good service.
If something unexpected occurs, as it often does, an experienced shipper will handle it swiftly and efficiently. On the other hand, if you leave your car in the hands of a new shipper for a lower price or for any other reason, the risk you'll be taking upon yourself will be much greater.
The longer a company has worked in the industry, the more information you'll be able to find about it online. Therefore, you'll have an idea of what to expect even before you make the call. You'll also be able to check that their operation is legal and that their track record is good.
6- Prepare the right documents
A shipper cannot legally transport your vehicle without documents that prove you've hired him for the job. Among these, the bill of lading is probably the most important as it contains information on every aspect of a transport.
The shipper may ask you to provide the car's title and a copy as well. If you've bought the automobile recently, a sale bill will be needed. To cross the border, other paperwork may come into play. It's best to request a full list of the necessary papers from your auto shipper and have them ready in due time.
7- Leave aside more than one day for the pick-up and delivery
While the shipper will do his best to accommodate your requests, it can be difficult to ensure a car leaves and/or arrives on an exact date. For example, there may not be available open carriers on the day you decided for the pick-up. An enclosed one car truck can be sent especially for your car, but the cost will rise significantly as a result. 
In general, your broker will give you an approximate date of arrival, and then call you when the carrier is close. Because of this, you should only take a day off from work when the exact date is provided.
8- Be present for the pick-up and delivery
The law states the car's owner can be replaced by a person with a power of attorney on the pick-up and delivery dates. However, that person may not know your car like you do. There may be scratches or bumps you would immediately notice that he/she may overlook. 
The driver will conduct an inspection of the vehicle prior and after the transport. Then, you'll have to confirm his findings by signing the paper he hands you.
However, if the car doesn't arrive in the exact state it left in, it's your right to request compensation. To do so, you'll have to notice the discrepancy, mention it in the document, and make a complaint. To prevent problems, these steps are best handled by the owner.
9- Take your car to a mechanic before the shipment
There are a few reasons why you should get your car checked before the pickup date. If it turns out there's a malfunction, the shipper must be aware of it, so an accident doesn't happen.
You can also obtain a document from the mechanic confirming the state of your car prior to shipping. If there are malfunctions after the transport, you can use this document and the mechanic's testimony to recuperate your losses.
Finally, fixing the car after its transport may be more expensive depending on the country you're moving to. It may also need to be modified slightly for you to legally drive it there. It's best to check the state's laws before the transport and to make the appropriate modifications if needed.
10- Obtain a complete quote
Some quotes may not include every single expense related to the transportation process. However, the document will contain a list of what is included. To make sure you don't have to pay anything else, check if the following expenses are taken into account:
Port dues.
Terminal charges.
Custom clearance.
Delivery.
Storage (if applicable).
You may also want to consider the time investment on your end as well as car related expenses. For example, you may need to gain a new driver's license in the country you're moving to. The car may also not meet the government's laws and standards. In such case, alterations need to be made which may or may not be cheap.
11- Pay in full only after the delivery
Most transport companies will require a deposit upon ordering one of their services. There is a good reason for this. 
In the event you change your mind at the last minute, the shipper will have already deployed numerous resources for the purpose of your transport. Your driver may already be on the road, schedules will have been made, and lots of time may be wasted. The role of the deposit is to help the shipper recuperate his losses in case the client changes his mind.
However, the deposit should never be more than a fraction of the transport's cost. The rest will be paid after you receive your vehicle. Otherwise, the company's incentive to do a proper job will be lower, and you may receive poorer service.
12- Prepare for the transport to take longer than expected
If you want an approximation of how long your shipment will take, you should ask your broker. When engaging in an international move, the transport of your belongings and your car can take up to a month. This is because your vehicle will likely have to cross the ocean, and ships are much slow than trucks. 
The alternative is to use a plane, but few can afford it. You can also speed up the transport by using a separate container instead of a shared one, but ultimately, the ship's speed will determine how fast your car will arrive. If you need it by a certain date, the best method is to ship it early.