In this day and age, customers are not limited to their local options when buying a new car. You can purchase one online or through someone you know in another state or country. Whether you are looking for a used, new, or an exotic car; purchasing directly through a dealership or on Craigslist, the possibilities are abundant. But what happens after you buy a vehicle that is physically far away from you? Your next step is to determine how to ship it to you and make the necessary arrangements. In this article, we will take a look at the process of transporting your newly bought automobile to your home. 
Benefits of Purchasing a Car Out of State
Shopping for a new car in a different place has many advantages. The biggest one is the price difference. Many regions, such as Miami, have too much supply for demand resulting in more affordable prices. So residents of cities like Los Angeles or Houston, where owning a vehicle is a necessity and people have more means for it, can find great deals and hire shipping companies to transport their new automobiles to them.
Another benefit is availability. If you have had an eye on a specific model, you may not always be able to find it in your locality. A vibrant online auto marketplace offers an extensive selection of options. Interested shoppers can branch out and find something for their tastes and wallets. Exotic and vintage car collectors, especially, reap significant rewards from acquiring cars online.
Advantages of Shipping Your Newly Purchased Vehicle
You bought an automobile online from a faraway seller. Now what? 
You need to transport your new possession to you. You have a few options here. First, you can fly to the car's location and drive it all the way home. It is possible but not always convenient, especially if you live across the country or on a different continent, cannot afford time off work, or do not want to increase your new car's mileage so exponentially. In addition, driving your brand new vehicle long-distance poses many potential risks and inconveniences. 
A much easier and safer option is to ship your car. Furthermore, it can even be a lot more affordable. Driving your vehicle yourself is more expensive than it seems at first; count all the flight fare, fuel, and toll charges, as well as food, rest, and lodging expenses – doesn't seem so economical, right? Additionally, all the wear and tear from the long road may lead to the vehicle's costly repairs later. 
How to Transport a Vehicle You Just Acquired from a Long-Distance Seller
Shipping your new car from a faraway place is very straightforward. Once you complete your purchase, contact an auto hauler, and book a shipment. A-1 Auto Shipment is a professional transport company with years of experience, trained staff, an excellent reputation, and great prices. We are experts at getting your new car from place A to place B with maximum efficiency and minimum fuss. Once you provide us with the information, we will send you a quote for the shipment. The total cost varies from case to case. Several factors, as well as a customer's preferred shipping method, may influence the amount. These include: 
Size: heavier and bigger vehicles cost more to transport because they are more difficult to load onto trucks and require more gas. 
Distance: the longer the distance, the higher the charge. However, this should not have a drastic effect on the bill since the further your car travels, the lower the cost per mile. 
Locations: if you are delivering from and to an urban area with a major highway in the vicinity, it may receive a lower quote than if your pickup and drop-off locations were in remote areas that aren't easily accessible by shipping trucks. To decrease the final cost, you can also choose to retrieve your car at a port or a terminal. 
Shipping Methods: it is important to bear in mind that you have several options. They vary depending on where you shipping from (domestic vs. overseas). Each selection has its own pros and cons influenced by the car's model, timeframe, budget, and other factors. For example, an open air transport is a great budget-friendly option and the industry standard. Not only can you save a buck but also find an available spot easier and faster. However, if you purchased an especially fragile or valuable car or are shipping across the whole country in cold seasons, you may want to pay more for added protection and opt for enclosed carrier shipment. 
Season: as with other industries, auto hauling businesses have their busy and slow seasons. Customers can catch lower rates during slow seasons while peak seasons will be more expensive. Higher traffic also means increased prices because it takes longer for the drivers to deliver the vehicles. This is applicable to summers as well as snowbird seasons during winters. 
Timeframe: there is a limited number of miles, as regulated by each state for safety reasons, that the drivers can travel in a day. Thus, having a car delivered to you may take some time – anywhere between two to eight weeks, depending on the distance. However, if you are pressed on time and seek urgent delivery, you can request an expedited shipment for an extra charge. 
Buying at a Dealership?
Today, buying an automobile through the Internet or from a far-away seller has become so prevalent even licensed dealerships are gearing toward a growing base of online customers. An increasing number of auto businesses choose to partner with car shipping companies to deliver vehicles to their new owners. If you purchase your brand new automobile at an authorized dealership in a different state, the chances are, they will hire a professional transporter to deliver the product to you. 
For this reason, you can definitely ask your dealer about shipping details and inquire about your options and rates. There may be cheaper alternatives that your salesperson may be able to secure for you. Even if that's not possible in your case, it is worth asking.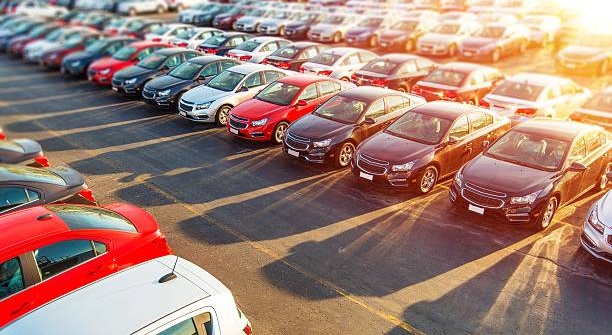 Registering and Insuring Your Car
Any new car is required to be insured and registered. Additionally, a shipping carrier will also need to see registration documents in order to book a spot and take on your vehicle. If you purchased your car at a dealership that is in your state, a representative may handle the process for you fully or partially. This is not the case with out-of-state sellers or dealers. You will need to arrange the documents yourself. 
Contact your insurance specialist and find out more details pertaining to your policy. Specifically, ask if your current coverage has a clause that automatically applies to a newly bought automobile for a certain period of time before you officially add it. Alternatively, you can include your vehicle to your policy prior to the purchase if you have VIN, price, and some basic information about the car.
Upon Your Car's Arrival
Once your car reaches its destination, complete the insurance and registration processes as soon as you can. You will need pretty much the same paperwork you presented to the shipping company. Many states, in fact, have a set limit for how long an automobile can stay unregistered. One thing to bear in mind is that you will pay tax for your new automobile upon registration, so don't forget to allocate the required amount for it. 
Shipping a car from a different state or country is very commonplace. It has become so accessible, simple, and affordable that buying a car elsewhere and transporting it home is the new industry standard. Even dealerships today offer out-of-state and even international delivery to interested clientele. At A-1 Auto Transport, our unparalleled expertise, extensive experience, and stellar reputation have made us the industry leaders. Shipping your newly purchased car from a faraway place has never been so easy. Our shipping agents and logistics specialists are here to assist you with any step of the process and advise on any issues.