What's in this article?
Safe And Reliable Michigan Motorcycle Shipping Services By A-1 Auto Transport
Motorcycle shipment in Michigan is possible with a reliable and safe motorcycle shipping company. There are many available. The trick is to find one with great reviews and ratings, as well as one that won't break the pocketbook. Luckily, motorcycle shipment is relatively cheap.
Cruising a motorcycle through the state of Michigan is guaranteed to be refreshing, especially in northern Michigan. Michigan has a lot of country roads, farming areas, casinos to explore, and forests. There are even long highways along the coastline. A motorcyclist coming to Michigan from another state is sure to fall in love with the new surroundings.
Michigan Motorcycle Transport Companies
Michigan motorcycle transport companies provide a comprehensive motorcycle shipping service throughout the continental United States. Perfect for custom motorcycle and power sports enthusiasts, these motorcycle shipping services offer a safe and secure way to transport touring bikes, cruisers, sport bikes and more. Using enclosed carriers to provide maximum protection, each motorcycle is secured with metal pallets and reinforced straps to ensure it reaches its destination without damage.
With professional motorcycle transporters that have years of experience and competitive rates in motorcycle transport services, motorcycle owners can now easily book Michigan motorcycle transport securely for their bike online within minutes.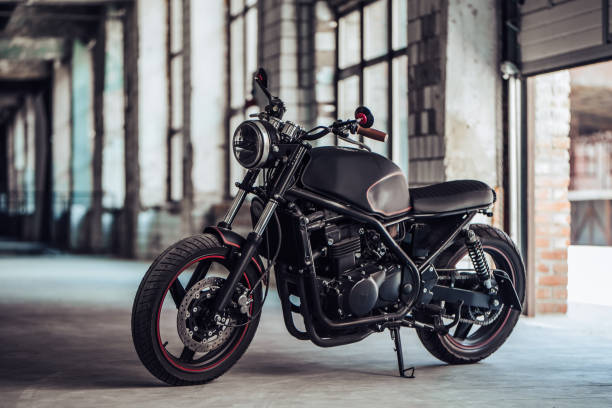 The Variety of Different Shipping Methods for Motorcycles
As with shipping process, there will be different motorcycle shipment methods available, depending on the shipping company you choose to go with. However, most of these motorcycle shippers will offer insurance on the bike during shipment to ensure extra protection.
Enclosed shipping is one of the safest forms of custom motorcycles transport. The bike is placed in an enclosed container or heavy duty metal pallet for shipment.
Terminal to terminal shipping is when the motorcycle is taken to a terminal for shipment, then picked up from another terminal. This can be inconvenient when the terminal isn't nearby.
Open air shipment requires the bike to be placed on an open flatbed or trailer. This might cause damage to the bike if weather or road conditions are unfavorable.
Door to door shipping is when the company comes to retrieve the bike from a specific address and then drops it off at the address specified.
Crated shipping is the safest form of shipment but the motorcycle will need to be drained of all fluids and the battery will need to be disconnected. The bike will then be placed on a wooden pallet and placed inside a crate.
A-1 Auto Transport Motorcycle Transport Services
A-1 Auto Transport motorcycle transport services provide a hassle free, simple solution to get your motorcycle where it needs to go. Whether you need to ship a new motorcycle across the country, or transport it within Michigan, our convenient online service offers an instant quote and a custom tailored motorcycle shipping solution. Our experienced drivers are pros at motorcycle transport services and know how important it is that your used or new bike is handled with care.
From careful loading, to utilizing soft tiedown straps for secure transport, you can rest assured that your motorcycle will arrive at its destination in perfect condition. Visit us and fill our online form now for all shipping needs and motorcycle transport services in Grand Rapids, Michigan.
Motorcycle Shipment Companies in Michigan to Choose From
Top Rank Auto Transport LLC.
564 Oakbrook Circle
Flushing, MI 48433
(888) 252-4061
PJ's Auto Transport
1425 Rensen St.
Lansing Charter Township, MI 48912
(517) 371-2900
Great American Auto Transport
8840 Cloverlawn St.
Detroit, MI 48204
(313) 202-9417
Useful Links
Michigan Department of Transportation
Popular Destinations:
| | | |
| --- | --- | --- |
| Adrian | Allen Park | Ann Arbor |
| Auburn Hills | Battle Creek | Bay City |
| Dearborn | Delta Charter Township | Detroit |
| Eastpointe | Farmington Hills | Ferndale |
| Flint | Grand Blanc Township | Grand Rapids |
| Hamtramck | Hazel Park | Kalamazoo |
| Lansing | Lincoln Park | Livonia |
| Madison Heights | Midland | Muskegon |
| Novi | Orion Township | Pontiac |
| Port Huron | Rochester Hills | Roseville |
| Royal Oak | Saginaw | Southfield |
| St. Clair Shores | Sterling Heights | Taylor |
| Troy | Van Buren | Warren |
| Washington Township | Westland | Wyandotte |
| Wyoming | Ypsilanti | |
Frequently Asked Questions
How much does it cost to ship a motorcycle to Michigan?

In reality, this depends on the particulars of your order. Your motorcycle's specific measurements and weight must first be provided to your shipping company. If your vehicle weighs more than the typical cap of 700 pounds, you may be assessed a higher fee.

A significant factor is undoubtedly the distance. The price of your delivery will increase if your pick-up and delivery locations are further apart. This also applies if either site is remote, as it makes it more difficult for the company to contact you.

Your choice of mode of transportation has a direct impact on what you decide to omit. Open transit is substantially less expensive than enclosed transit, and the latter requires paying more for protection because your motorcycle will be in a confined location.

Also, there are two well-liked distribution techniques: terminal-to-terminal and door-to-door. In the first instance, the shipping company will deliver the product immediately to your door; in the second, you will need to ride your motorcycle to the terminal. Although it is currently less convenient, it is also less expensive. Also, even if you live far from the terminal, the cost of the fuel will add up to the entire sum.
How long does it take to transport a motorcycle to Michigan?

It is impossible to obtain an exact number for this. The national average for an open carrier is $940, while the standard for an enclosed carrier is $1,300. Yet, as these data are solely for cross-country delivery, they only relate to people who live outside of Michigan.

When you request a quote, your provider will ask you for details regarding your delivery in order to give an exact cost.

A company typically needs to take into account a number of criteria before delivering your motorcycle. Even seemingly insignificant things like the weather significantly impact logistics; storms invariably cause delays, while severe heat overheats motors.

If your business used a large carrier, it might be less expensive, but the delivery would take longer because you would have to wait for your turn based on the driver's schedule.

To find out when your order will arrive, you can use the GPS system at A1 Auto Transport to track it.
Will my motorcycle be secure?

If you choose a reputable company, you won't have to worry about your motorcycle's safety. Your movers will push the automobile into the carrier using a ramp and secure it with ratchet straps.

You might have to spend more money if you want a more expensive device with increased security. But it's optional. If you feel the extra protection is essential, use enclosed transportation, and you won't worry despite the additional cost.

Even without it, the vehicle won't move throughout the trip because a professional company uses numerous eyelets and straps.

Ensure that it is adequately prepared. The tank must be cleaned, empty, and free of all extra parts. Afterwards, it will be designed for shipping.
Will my motorcycle be insured?

Every legally operating business will be insured to compensate you for any damage to your motorcycle.

It also underlines the need for careful business selection. You shouldn't choose an overly cheap business because if their pricing is lower than others, they must make compromises.

It might be insurance, in which case you would suffer losses in the event of an accident. Make a good decision by consulting the state website for Michigan for a list of all the licensed companies.