What's in this article?
Car Transport Maine (ME) Near Me
Maine, located at the northernmost tip of the United States, is well-known not just for its fresh lobster but also for its beautiful landscapes and exciting outdoor activities. Those who live in the city can find solace in either Bangor or Portland, two larger communities that nonetheless manage to retain a friendly, small-town vibe. Most visitors come to take in the stunning scenery along the coast. Having your own transportation is highly advised as there is lots to see from city to city.
Cost & Time To Ship Your Car Examples
| Shipping To/From | Cost | Distance | Estimated Time In Transit |
| --- | --- | --- | --- |
| Portland, ME to New York | $314 | 314 miles | 2 - 4 days |
| Philadelphia to Portland, ME | $408 | 408 miles | 2 - 4 days |
| Portland, ME to Ohio | $627 | 836 miles | 3 - 5 days |
| Chicago to Maine | $671 | 1118 miles | 4 - 6 days |
| Portland, ME to Georgia | $736 | 1227 miles | 4 - 6 days |
| Colorado to Maine | $1085 | 2169 miles | 6 - 8 days |
| Maine to Texas | $1109 | 2217 miles | 6 - 8 days |
| Phoenix to Maine | $1152 | 2880 miles | 7 - 9 days |
| Portland, ME to Oregon | $1212 | 3030 miles | 7 - 9 days |
| Los Angeles to Maine | $1245 | 3112 miles | 7 - 9 days |
| Maine to Seattle | $1274 | 3184 miles | 7 - 9 days |
*Prices and times for shipping a car are estimated. They can vary depending on the season and what type of vehicle you are shipping.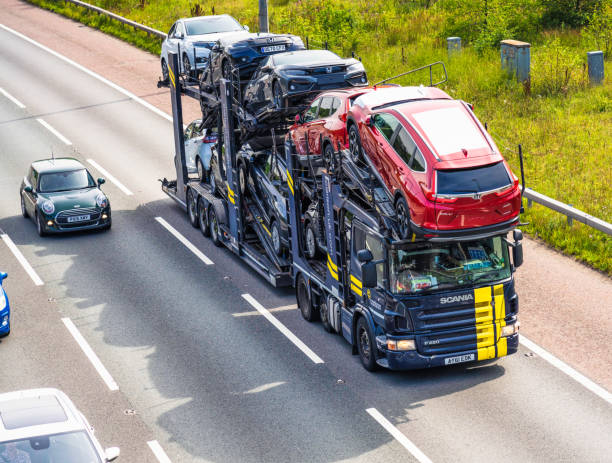 Car Shipping Companies Near Me
Looking for auto transport companies near you in Maine? Tucked up in the furthest places in the U.S. is Maine, making road trips a bit limited. Want to start from a different location and make your way home? Maybe you've just sold your grandfather's old classic car and need a reliable company to get it to California? It's hard to know who to trust in the car transport world, but we encourage you to get to know us, our interstate vehicle shipping services and our Maine car transport process. We love helping our clients for their Maine auto shipping services and general transport needs thereby giving them peace of mind.
Using Maine Car Shipping Companies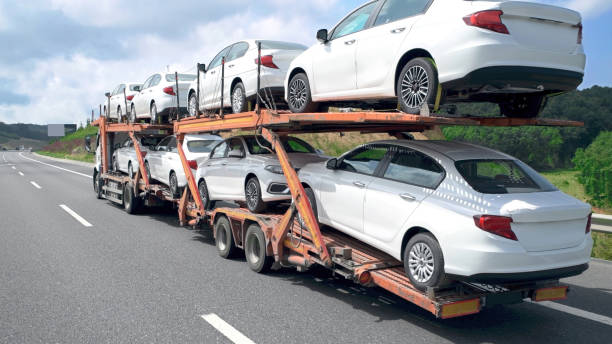 When you are looking to book Maine car shipping services, keep these extremely helpful tips in mind.
Get as close to your destination as possible: There are plenty of smaller towns around the state, so when you schedule your Maine vacation or visit, you might want to make time to peruse a few of them. However, for the purposes of your automobile transport, choose a pick-up depot as close to your main destination as possible to avoid potentially expensive pick-up fees by vehicle shipping companies.
Prepare your car for transport: Traveling to Maine can be quite a distance, depending on the area of the country from which you are traveling. For example, if you are coming from the West Coast and your car is being transported over a number of days, make sure that you prepare for your Me car shipping services ahead of time. Keep fluids at about half full in the transport car and take out all personal belongings before shipping a car. If you didn't opt for an enclosed shipping transport, take steps to protect your vehicle from the elements (such as using a cover, for example).
Plan out your trip ahead of time: Plan out places in Maine that you plan to visit by using your automobile. The more in advance you can plan out aspects of your trip, the more likely it is that you won't miss anything that you really wanted to see like picturesque landscapes, exotic seafood, etc.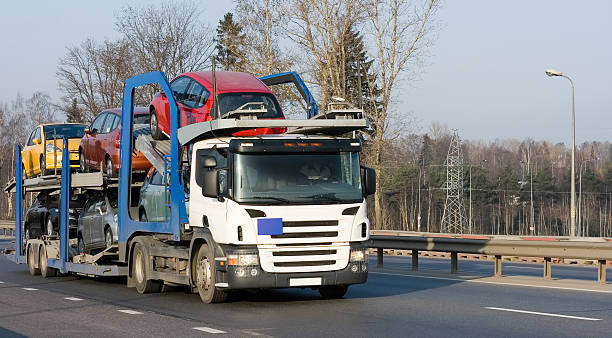 The settings found in Maine are unrivaled anywhere else in the country, so it pays to have Maine car transport so that you can use your own vehicle to get around. This northern locale is simply one of those areas of the country that has unspoiled beauty that must be seen to be believed.
It should also be noted that many Maine auto transportation companies specialize in working with snowbirds in other locations to get their cars home from the sunnier climates in which people have vacationed in the summer months.
Visit the Maine Department of Transportation website for more information on best deal for Maine and the beautiful natural scenery in which it can offer those visiting or relocating to the state.
Long Distance Auto Transport to/from Maine
Transporting vehicles over long distances is done using specialized routes that are as direct as possible and have the least amount of problems (road accidents, bad weather, etc.). If you live along one of these routes, then picking up your car is quite easy for our carriers.
However, if you live in a more remote area, then the driver will have to deviate from his usual course to pick it up. Because of this, the price of door to door shipping may be slightly higher for shipping car to Maine.
If there is a terminal near your home, you can take your car there to eliminate the extra cost to transport car. If your home is inaccessible via truck due to small roads or sharp turns, then we must arrange to pick-up the car in the nearest accessible area. This can be the parking lot of your local supermarket or a gas station.
International Auto Transport from/to Maine
The larger the distance you want to transport a car across, the more advantageous it is to hire an auto transport company. Not only does it become cheaper due to all the costs you'll incur on your own, like fuel prices, hotel bills, meals, etc. but it will also save you from a lot of troubles first time shippers inevitably face. This is especially true for international shipping.
If it's your first time transporting a car to another country, there are probably a lot of things you don't know, like how to get past customs surrounding areas South Portland, Maine, what documents you need to prepare, what taxes you have to pay for the car hauling services how to book a ship to take your car overseas, etc. Without someone to guide you through this process, you risk paying more than you have to or forgetting something and having to waste time and money fixing it.
A1 Auto Transport can release you from all this unnecessary stress. Not only can it be very cheap to work with us, but you'll waste little time doing so. Call now to get started.
Cheap Car Auto Transport Maine Options
Auto transport Maine costs can be lowered considerably. This is especially important, if you're looking for long distance auto transport.
We recommend using an open carrier Maine car transport in such cases. The driver may have to drop several other cars along the way, so it will take a bit longer to arrive than when using an enclosed truck; but price wise, this car shipping service is more affordable.
If your car can be driven, we also recommend taking it to the nearest terminal for car shipping. This will save us time, so the bill will be lowered accordingly for your Maine car transport.
Some of our customers may be eligible for a discount on car shipping services, or they may have chosen to transport their cars when our seasonal offerings are available. You can check these by phone and even plan your auto transport for the time period when these offerings are in effect at your residential or business location.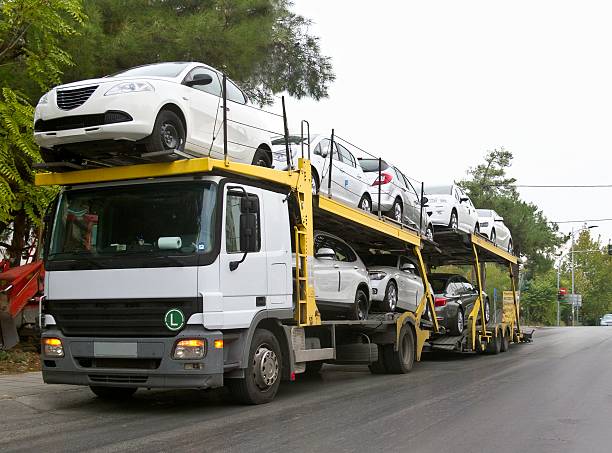 Shipping Luxury and Classic Cars in Maine
If you need to transport a luxury or antique vehicle to Maine, one car transport method to consider is with an enclosed auto carrier. This Maine car shipping method includes shipping the vehicle either in a single covered truck or in a multi-car trailer that can house up to five cars. This provides extra protection against weather elements, such as rain, hail, or snow for Maine car shipping. Unlike open carriers, enclosed trailers feature hydraulic lift gates for loading and unloading vehicles, as well as a reliable tracking system for Maine car shipping. They also carry higher insurance policy limits due to their cargo's heavy equipment value.
Enclosed auto carriers and drivers are often more knowledgeable about luxury and classic automobiles, and are likely more experienced in hauling such vehicles. During their transit to Maine, driver may offer electronic or phone updates of your vehicle's status till your car arrived at the final destination. Despite the higher cost, exotic and expensive cars receive additional security and attention from this kind of car transport system.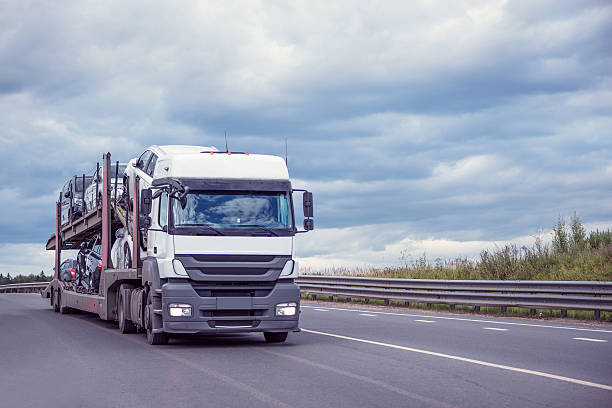 Maine Auto Transport Special Discounts
There are special discounts you can use to transport car if you choose the right season for your Maine auto transport. To take advantage of this, we recommend you call and ask us about it directly. You can also ship your car at a lower price if you're a senior, a student or part of our military.
Auto Transport Safety Measures in Maine
Our company's policy is to deliver every vehicle in the exact same state we've picked it up in. To ensure this is the case, we regularly check our car shipping carriers to spot any malfunctions early on. We use time tested routes and verify the weather and news in each area we pass, so there aren't any surprises along the way.
Just in case there's a problem with auto transport services, we double check each car at both the pick-up and delivery points. If anything is wrong, our higher ups will be notified and you will be compensated. So, if you want to transport car to Maine, give us a call.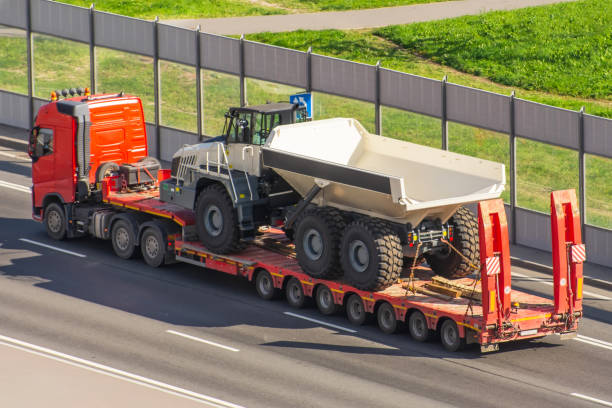 Services And Information
A-1 Auto Transport Ships Worldwide.
Get a Free, No Obligation to Buy, Auto Shipping Quote.
Get my free quote now
or call us to do it for you:
How to Request a Price Estimate or Free Quote
Our online form is easily accessible on all our pages if you want to transport car to Maine. You can find it and a phone number for direct contact in the upper right corner of each page.
There are 2 steps to completing the form to transport car to Maine. First, complete the 2 fields and click "Calculate Cost." This will redirect you to another page where you will have to complete a few more details, so the auto transport details are more accurate. Make sure you read the instructions and put truthful information for Maine auto transport, so the result you get is accurate.
You can also call us directly and discuss your car shipping requirements with one of our car shipping experts. This may result in a more personalized auto transport service, perhaps even a cheaper one to transport car to Maine.
Maine Auto Transport Companies Directory
Carlen Transport
This Maine auto transport company offers a vast array of transportation options for those needing to get their vehicles from one destination to the next. From enclosed transport carriers to specialty shipping for custom cars, trucks, motorcycles, boats, vans or SUVs, this is a popular Bangor auto transport company that has a record for excellent service as stated by their customers' reviews. Licensed, bonded and insured. Get your car transported to South Portland or Augusta Maine today.
81 Mecaw Rd., Bangor, ME 04401
207-990-4507
Charlie's Auto Transport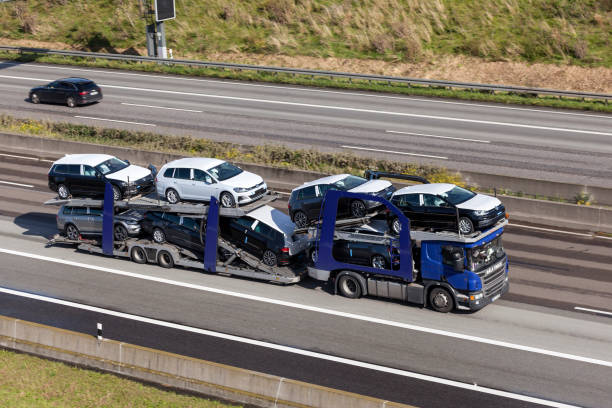 Those in need of auto transport in the city of Portland or South Portland might look to Charlie's auto shipping to get the job done. Whether it is Maine auto transport around the state or to another area of the country, Charlie's has affordable car shipping pricing and a wide array of transport and hauling options even for the most discriminating consumer. BBB accredited vehicle shippers. Get a free car shipping quote for Augusta Maine or other cities today at affordable pricing.
67 Newton Street, Portland, ME 04103
207-797-6004
Charlie's Auto Transport
Crafts Transport
Specializing in moving the vehicles of snowbirds back to Maine from southern locations, this is one of the oldest car shipping companies in the state of Maine. This means that it's less new technology like frills, and more reliable care with your vehicle and customer service that hearkens back to yester years, when drivers and businesses cared about reliability or making the customer happy. Get a free nationwide instant quote from the form provided on their website.
711 Lisbon Road, Lisbon Falls, ME 04252
207-353-5556
Car Registration in Maine
To get your car registered at the BMV in Maine, you will have to go to the office in person and submit your application along with your Maine driver's license, the vehicle title, a sale bill, a fee of registration, a sales tax, an auto insurance policy, and the excise tax receipt. Please note you will have to submit the documentation yourself even if it's a new vehicle from a car dealership.
All Maine residents, old or new, are required to register their vehicles with the local BMV office. Proper registration is mandatory to legally use the public roads. All Maine registrations must be renewed if you want to keep using your vehicle while abiding the law. Better Business bureau also recommends to have all the documents in place.
Vehicle Registration for New Maine Residents
If you just moved to Maine, you benefit from a grace period of 30 days to title and register your vehicle at the Maine Bureau of Motor Vehicles.
Visit the municipal office to complete the registration process. Make sure to bring a disability application form signed by your physician if you wish to apply for plates of disability.
If the town office doesn't perform car registrations, pay your excise tax for the vehicle and then go to the branch office of the BMV to complete the registration process.
To submit for vehicle registration, you will have to bring the following documents:
The old certificate of registration from the previous state of residency;
The car title issued by the other state – for vehicles newer than 1995;
The address and name of the lienholder if the car is the object of a lien;
Yellow and white duplicates of the application form for registration;
The receipt of the excise tax;
The document of your vehicle insurance policy;
A fully completed form for use tax – so you're exempted from paying the sales tax, given you paid your due taxes in your old state of residency;
The fee for the title application paid for vehicles after 1995;
Receipt for the license plates and registration fees – specialized fees are more expensive than the standard type.
A final inspection report will be given after checking all the documents.
Maine Vehicle Registration Process
Not all municipal offices take part in the registration program. Therefore, you may not finalize the registration process with one visit to the municipal office.
If the office you belong to doesn't take part in the program, handle the excise tax, go to the branch office of the BMV, and submit the required documentation in order to finalize your car's registration.
Make sure to bring a disability plates application signed by your physician if you wish to apply for disability specialized plates.
Mandatory insurance policies: To register and drive your vehicles in Maine, you have to own proper insurance policies. Before signing an insurance policy, you can inquire the market and compare the rates of a variety of vehicle insurance companies.
Dealer-bought vehicles
In Maine, you have to insure the registration of your vehicle even if you bought it from a car dealership, as they do not insure the application of the registration protocol in this state.
Steps to be make in order to register the car you bought from the car dealership:
Have the tax of excise paid;
Provide the MSPR sticker, or at least a copy;
Submit the following paperwork:
Bill of sale,
The yellow and white duplicates of the application of registration,
The blue application title;
Provide a copy of your car insurance policy;
The registration and license plate fees must be paid.
Private party bought vehicles
Have your vehicle registered in Maine by submitting these documents to the municipal office:
Excise tax receipt;
Sales tax receipt;
The vehicle sale paperwork:
Signed sale bill in your name by the last owner,
The car's title signed-over to you,
Yellow and white duplicates of the registration document,
Copy of the auto insurance policy;
Receipt for the fee of title application;
Receipt for the fees of registration and license plates.
Make sure to inquire on Maine Title Transfers if you were gifted a vehicle, or you are selling or donating your own car.
Vehicle Registration Process for the Maine Military
If you serve in Maine as military, you can preserve the insurance policy and car registration you have issued in your own state. However, if you wish to make a permanent home out of Maine, you will have to undergo the registration process for new Maine residents.
If you're a resident in Maine and you are stationed out of Maine for more than a 30-day period or even permanently, you can apply for exemption from the excise tax by providing certification from a commanding officer that confirms your status of being out of state. Please get informed on how you can register your car remotely from your current location.
If you bought a car registered overseas while you were on active military duty, you will have to register it in Maine upon your return.
Registration Fees in Maine
The fees for vehicle registration vary depending on the car's size, type, and license plates. The usual fees are: moped fees, motorcycle fees, disability plates fees, and passenger vehicle fees. Please note that the registration of specialized plates costs an additional fee for the initial registration and renewals.
Maine's License Plates
When you register your vehicle at the branch office of the BMV or at the municipal office, you will receive standard license plates.
If you wish to receive disability plates, you have to submit a disability application form signed by your physician.
For an additional charge, specialized license plates are available, such as awareness for breast cancer plates, veterans' plates, conservation support plates, and animal welfare plates, among many others.
If you wish to own vanity plates, you will have to check the template's availability before registration and pay an extra fee as well.
Other Maine Resources
Maine.gov - official government website for the state of Maine.
Maine Wikipedia Page - everything you need to know about the state of Maine.
University Of Maine - Located in the town of Orono along the banks of the Stillwater River, the University of Maine offers a strong traditional education at an affordable price.
Frequently Asked Questions
How can I track my vehicle while in transit to and from Maine?

It is very easy to track your vehicle while in transit. Maine car transport companies will provide a way to track your vehicle and we encourage you to make this a question to ask whenever interviewing different car shipping companies. Some of the different ways that vehicles can be tracked include:
A direct line to the driver of the transport company
Online tracking on their website using a search or contract # given to you at pickup.
A periodic call or text with an update from the vehicle shipping company
Will I need to purchase additional insurance for my car?

No, you should not need to purchase additional insurance for shipping a car. According to Federal regulation, all vehicle shipping companies are required to have an insurance policy that covers all of the cars they transport. This is so that everything is insured in the event that the vehicles become damaged during transit. 

However, it is recommended that supplemental insurance coverage be considered for cars that are more expensive. A carrier's policy may be basic and may not be enough to cover the major investment value of an expensive vehicle.
What goes into the cost of shipping a car?

Several factors go into determining the shipping cost of your vehicle.

Destination

The shipping destination is the most important factor in determining price. The farther the shipment will need to travel, the higher the price will be for car shipping. This also means that this cost is typically the least able to be adjusted.

Type of Auto Transport Maine Service

Choosing between door-to-door and terminal-to-terminal auto transport Maine service can also affect the car shipping cost. While some customers want the personalized aspect of door-to-door service, it is cheaper to choose terminal-to-terminal car shipping service. This is when you drop your car off at a nearby terminal and it will be loaded onto a truck and shipped to another terminal near your final destination. It is recommended that you ask our staff if there are any terminals near your ideal pick up and drop off locations. If there are, use them to lower your Maine auto transport shipping costs.

Type of Carrier

You can opt for an Open Carrier, a cost effective option compared to enclosed trucks for Maine auto transport. They have a larger carrying capacity, so the car shipping cost is lower. Enclosed transport carriers provide better protection against the elements and damage from debris, but they usually end up costing much more.

Timing

Rates can also differ depending on the time of year that you transport your vehicle using Maine car shipping services. If you are trying to transport your vehicle somewhere in the southeast during peak hurricane season, then you'll probably be charged a higher rate for your Maine auto transport. However, Maine car shipping to the same region during the winter would probably save money. No matter when you ship your vehicle, if you can be flexible on your pickup and delivery dates, then you can cut your costs significantly.
Who is responsible for regulating car shipping companies in Maine?

To perform interstate vehicle shipping services from Maine, auto transportation companies must be registered with Maine's Bureau of Motor Vehicles, the U.S. Department of Transportation's Federal Motor Carrier Safety Administration (FMSCA) and have a valid DOT and MC number.
How do I file a complaint with the Department of Transportation in Maine?

If you want to file a complaint regarding the transport company, truck driver, or anyone associated with your vehicle transport – fraud or theft - you can do so by filing a complaint with the Law Enforcement Division of Maine's Bureau of Motor Vehicle.