When you incorporate the help of a professional moving company to make a move across the country, you will be given a contract that includes a list of what is not allowed to be transported by the company. These items are not something that can be negotiated due to possible laws or safety hazards that they may place on the moving specialists or the integrity of the cargo inside of the truck. You do not want your items harmed during transport, and if items are ruined due to non-compliance, they more than likely will not be covered in any insurance claim against the transport company. Make sure to follow the instructions of your contract precisely to ensure that prohibited items are not shipped.
Prohibited Items Transport Companies Cannot Ship
Some of the items that a transport company cannot ship across the country during a move might be things you already identify as dangerous, and you couldn't possibly imagine someone trying to ship these items across the country. The lists of prohibited items that are created by each shipping company are going to be a compilation of the company's personal preference and legal liabilities.
Hazardous Materials
You might be surprised at some of the items that make it on to a hazardous materials list. Under certain circumstances, some substances and items can become highly combustible, flammable, or corrosive. If you need to get rid of these types of items before a move, reach out to your local waste disposal company to see how you can properly dispose of them before a cross country move.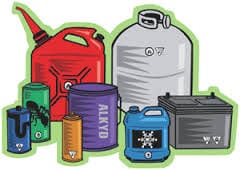 Items that often fall under the hazardous material categories include:
Acids
Ammonia
Car batteries
Charcoal lighter fluid
Cleaning solvents
Fertilizer
Aerosols
Ammunition
Charcoal 
Chemistry sets
Darkroom chemicals
Fire extinguisher
Gasoline
Kerosene
Liquid bleach
Matches
Nail polish
Fireworks
Household batteries
Lamp oil
Loaded guns
Motor oil
Nail polish remover
Paints
Poisons
Propane tanks
SCUBA tanks
Weedkiller
Paint thinner
Pesticides
Pool chemicals
Reloading supplies
Sterno
Perishables
Cross country moves take a lot more time than the lifespan of perishables. Perishables also have the potential to attract pests and rodent infestations in a brief period of time. There is the possibility that if a move is executed in 24 hours or less, a moving company may make exceptions for the perishable rule. However, if the perishable can cause damage to the shipment, it is doubtful they will make the exception.
Perishables that might appear on a prohibited list are:
Frozen foods
Plants
Opened food products
Refrigerated food
Produce
Personal Items or Sentimental Items
The personal items we own that are sentimental and priceless are often items we don't think about, not including in the packing of our home when we move. Boxes get lost and damaged in the moving process. It is not something that is done purposefully, but there is no way to stop accidents from happening.
Once your belongings are loaded onto the back of a truck, they are no longer under your control. The safety and security of your personal and sentimental items will be in the control of the moving company. For the reason that these items are irreplaceable, most moving companies will request that they are moved with you instead of in their moving truck.
The items that most moving companies categorize as personal or sentimental items are:
Address book
Car keys
Cash
Cell phones
Checkbooks
Airline tickets
Car titles
CDs
Certificates of Deposit
Coin Collections and other collections
Compter discs
Insurance policies
Jewelry
Laptop computers
Medicine
Financial documents
IRAs
Deeds
Tax Records
Laptop Computers
Medicine
Videotapes
DVDs
Photographs
Professional files
Photo albums
Sterling silver
Wedding albums
Research projects
Stocks
Bonds
Pets
Professional transport companies that are moving your household items are not going to move your pets with your belongings. This seems like an over the top category to add, but it has been asked before. Buses and trains do not allow animals to carry on or passengers, so unless you plan on flying or driving, you may need to look into an alternative method for getting your pet across the country. In case these options don't seem to work for you and your family, there are special pet movers who will get your furry family member where they need to go as well. 
How to Make Sure You Don't Pack the Wrong Things
Moving across the country is already a stressful process. Now there are things that you are not able to pack and ship within the moving truck, but you aren't quite sure how to make sure you don't accidentally pack the wrong thing. This is why packing professionals exist.
Making sure you don't pack the wrong thing may not be the real reason that packing professionals exist, but they do make the frustration of getting the job done more efficiently. If you were to accidentally pack something in a box that gets loaded onto the transport truck and it was to explode (worst case scenario), it would be investigated for the insurance claim. Should this investigation come back and reveal that you packed something on the list of prohibited items, the insurance company for the transporter is not going to pay to replace your items. You could even end up responsible for paying the damages incurred by the transport company.
In the same scenario, but you hired a professional packing company to get your items boxed and ready for the moving truck. In this case, you would not be liable because you did not put the belongings in the boxes that were prohibited.
The Role of the Packing Professional
If you have ever tried to pack an entire house for a move across the country, you know exactly how difficult it can be. You know that packing materials cost a lot when you have to purchase them, and when you run out before the job is done, it is frustrating. Packing our own home often takes a lot longer than when a professional does it because we come across things we forgot about, or we feel the need to reminisce as we try to pack efficiently.
When a packing professional comes into your home, they have one role, and that is to pack your belongings to get it ready for a move. In most circumstances, the fee you will pay for professional packers to come into your home includes the materials to pack your items, which means you don't have to guess the number of boxes you need. 
Packing professionals are also highly organized and will be able to label and list every box and its contents for better unloading. These professionals will consult with you to see if any items will be changing rooms, and they will pack accordingly. They also have the expertise to take apart larger items and package them so that they are not damaged during transport.
The Cost of a Packing Professional
Most packing professionals get paid hourly unless your transport company is offering these services as a part of your moving package, in which case it will be included in your transport fees. Don't be alarmed when you realize that professionals can run anywhere from $25 to $45 an hour for their services. In most cases, you will need two of these professionals if you have a house that is larger than a one-bedroom. 
In the grand scheme of things, two professionals packing up your house can make the time go by even quicker, and you will be able to rest assured that all of your fragile items will be safe during transport.
The Cost of Packing Without Professionals
Imagine for a moment what it would be like to pack your home without the help of movers. Many people do not take into account just how much packaging materials cost and how long it takes to pack items efficiently.
Materials alone can run hundreds of dollars. Most of these materials are of higher quality than you would get at the grocery store (or behind it), which makes your belongings more safe. To give an idea of how much supplies cost, a breakdown is below:
Small boxes

Unit price: $1
Three Bedroom Total: $30 to $40

Medium boxes

Unit price: $1.50
Three Bedroom Total: $37.50 to $75

Large boxes

Unit price: $2
Three Bedroom Total: $30 to $50

Extra-Large boxes

Unit price: $2.50
Three Bedroom Total: $25 to $37.50

Boxes for books

Unit price: $2
Three Bedroom Total: $10 to $20

Wardrobe boxes

Unit price: $13
Three Bedroom Total: $51 to $65

Boxes for glassware

Unit price: $15
Three Bedroom Total: $45 to $75

Boxes for dishes

Unit price: $15
Three Bedroom Total: $60 to $75

TV and Picture boxes

Unit price: $25
Three Bedroom Total: $125 to $150

Packing paper

Unit price: $10 to $15
Three Bedroom Total: $20 to $30

Bubble wrap

Unit price: $10 to $25
Three Bedroom Total: $20 to $50

Plastic wrap

Unit price: $10 to $25
Three Bedroom Total: $20 to $50

Rolls of tape

Unit price: $3 to $4
Three Bedroom Total: $12 to $16

Tape Dispensers

Unit price: $12
Three Bedroom Total: $24
After you have purchased all this material, you then have to properly pack all of your belongings in a way in which they will not get damaged during the move. You will also need to do all of this before the transport company, and the moving specialists come in to load everything.
Self-Packing Versus Hiring Professionals
To put it into perspective, when you are thinking about how expensive you think it will be to hire a packing professional, it is better to look at numbers and facts. These facts might make the decision a whole lot easier for you to decide what the best method is for your cross country move.
The price of packing materials for a three-bedroom home can total around $510 to $740. These are just the packing material and do not include the amount of time that you will spend packing your belongings. 
If it takes two packing professionals a total of ten hours to pack your belongings correctly and they charge you $30 an hour for their services, their services have just cost you $600. This total falls right in the middle of the price you would pay out of pocket for JUST the packing materials. Hiring a professional packing specialist to get your home ready for a cross country move also ensures you are not liable should something get packed incorrectly or is prohibited by the transport company.
In most circumstances, acquiring the help of packing professionals is going to create fewer headaches for you while you prepare for the move across the country. Some people aren't fond of someone touching their belongings, but if you can get over that detail, using a packing professional can save you a lot in the long run.
Professional Transport Companies
Many professional transport companies offer full service moving assistance when moving across the country. They have a fleet of trucks that can facilitate the items from houses as small as a studio up to four or more bedroom houses. 
Transport companies often offer package deals when it comes to moves of this nature. They may offer discounts if you choose an all-inclusive package that includes professional packing services from someone that they trust. By working in a partnership type of style, the packing professionals can help to ensure that transport companies are not transporting prohibited items.
A-1 Auto Transport has been working in the auto transport industry for over 30 years. In this time, we have seen many items get shipped that should not have. They not only endanger the belongings of our clients but create an unnecessary risk to your drivers. For these reasons, we recommend using one of our certified professional packing companies to help you with your cross country move. These professionals have helped so many of our clients achieve an efficient move with little frustration. If you need to get a quote for your move across the country, call A-1 Auto Transport for a free quote today.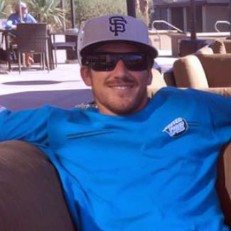 Joe Webster began his journey in the auto transport field by attending the University of Southern California (USC), where he graduated with a Bachelor of Business Marketing.

After college, he started his career in the auto transport industry from the bottom up and has done virtually every job there is to do at A-1 Auto Transport, including but not limited to: Truck Driver, Dispatch, Sales, PR, Bookkeeping, Transport Planner, Transport Manager, International Transport Manager, Brokering, Customer Service, and Marketing. Working with his mentor Tony Taylor, Joe Webster has learned the ins and outs of this industry which is largely misunderstood.

With over 30 years experience in the industry, we've been helping people ship their vehicles, motorcycles, RV's, heavy equipment, household goods and more across the country or overseas without a hitch. Ask us anything.