What's in this article?
Low-Cost Moving Solutions: Your Trusted Cheap Movers New Hampshire
When it comes to seamless and cost-effective local moves in the United States, New Hampshire residents have a trusted ally in their corner - highly recommended and reliable cheap movers. Our New Hampshire moving company is dedicated to providing the best moving services in the region, offering top-notch solutions for all your relocation needs.
Our team of experienced professionals takes pride in making your move a stress-free experience. We specialize in both residential and commercial moves, ensuring that your belongings are in safe hands throughout the entire process.
With an unwavering commitment to customer satisfaction, our New Hampshire movers go the extra mile to exceed your expectations.
We offer a comprehensive range of services, including packing services to ensure your items are handled with care. Whether you're moving within New Hampshire or across state lines, our local movers have the expertise and dedication to make your transition smooth and affordable.
Choosing our moving company means choosing reliability, affordability, and peace of mind. With our low-cost moving solutions, you can trust us to handle your relocation efficiently, allowing you to focus on the excitement of your new journey. When it comes to New Hampshire moving, we're the best in the business.
New Hampshire Cheap Movers Near Me
Some essential factors such as a career change or a significant life event may force one to move from one place to another. However, the moving process is not only tedious but also stressful. Luckily, New Hampshire cheap moving companies have emerged to address these challenges.
However, it is advisable to ensure that the agency that you choose is not only trusted by its clients but also has positive reviews.
About Us
We are a licensed commercial company that provides cheap moving services. Since the inception, we have helped hundreds of our clients move to their new homes without any inconveniences. Ask any person living in New Hampshire; our services are widely known.
Our Services
Office moving
Full service moving
Cross country
A-1 Auto Transport can help you move your household goods nationwide. Call 888-241-3110 to get a free, no obligation to buy price quote on interstate moving services and our online form comes free of charge.
Benefits of Using Our Services
Those who chose to rely on our services over those of other New Hampshire cheap movers enjoy the following advantages.
Low Cost: Although some people may prefer moving their household goods by themselves, the cost of relying on our services is much economical and the experience is worth a smile. Our quote will include services such as loading, unloading, packing, and unpacking. The prices at our firm are incomparable to those offered by other companies. You don't have to hire trucks as we come with everything that is needed to help you move.
Saves Time: If you were to decide to move by yourself, you would spend a lot of time arranging your things and keeping everything in order. We have well-trained employees who are used to moving belongings. They can load, unload and do everything else required when moving at a fast pace. Besides, we have small boxes where you can lock your valuable documents and other sensitive items
Experience: We have over ten years' experience providing moving labor services. This knowledge helps us provide world class services to our clients. Our employees remain courteous when dealing with our clients regardless of their social status. We get most of our clients through referrals, and we keep getting new clients now and then. We also offer a discount to all our returning clients.
We Have the Right Equipment: Moving household items requires possession of the right equipment. For bulky furniture, you need heavy lifting tools. As a moving business, we have all the necessary tools of work. We do everything possible to help you move to your new home on time.
Insurance: One of the most significant risks during interstate moving is the damage or loss of property. By hiring us, you are assured of getting your items in the right condition as we make sure they are insured. Besides, we employ professional workers who ensure the provision of high-quality moving truck services.
Responsive Customer Care: Our customer care agents are highly responsive. When in need of residential moving services, you can call them and get free quotes. Make sure you give precise details so that we can give you the best rate. You will get a concrete information on any question on relocation to the area.
How to Request for Our Services
Are you are moving to New Hampshire soon? Are you tired of the high rates offered by other moving storage service providers? You are at the right place. We are a mover familiar with the local area and our men are what you can call gentle giant as they carry out their task discreetly without fail.
We understand your moves and are determined to help you relocate to a new home or office efficiently. We provide the estimate to make our services affordable.
Move to your desired location at the best price. Contact our sales agents any time via phone, chat room, or email, we can assure you of great communication. Let us make your moving day surprising and enjoyable.
Ways To Prepare for a Move
Moving to a new place can be both exciting and a bit overwhelming. Whether you're planning a long-distance move or a local one, being prepared is the key to a successful transition. Here are six simple steps to help you get ready for your move:
Assess Your Moving Needs
Before anything else, take a moment to understand what your moving needs are. Are you doing a long-distance move, or is it just a local one? Consider the size of your home, the number of belongings you have, and the distance to your new place. Knowing your requirements is the first step in planning your move.
Highly Recommend: Compare Prices
When it comes to moving, comparing prices is a must. Reach out to different moving companies and request quotes. This will help you understand the cost involved and ensure you're getting a good deal. Don't forget to ask about any additional fees that might be included.
Create a Moving Checklist
Organization is key when preparing for a move. Make a checklist that includes everything you need to do. This should encompass tasks like packing, notifying utilities, updating your address, and scheduling the movers. Having a checklist will help you stay on top of things and reduce stress.
Declutter and Downsize
Moving is an excellent opportunity to declutter. Go through your belongings and decide what you want to keep, what can be donated, and what should be thrown away. Downsizing not only lightens your load but can also save you money on the move.
Gather Packing Supplies
To pack your belongings effectively, you'll need the right supplies. Stock up on sturdy boxes, packing tape, bubble wrap, and packing paper. Label each box with its contents and the room it should go to. This will make unpacking a breeze.
Long-Distance Move: Plan Ahead
If you're embarking on a long-distance move, planning ahead is crucial. Make sure to arrange for accommodations during the journey, whether it's hotels or other lodging. Also, plan for rest stops and meals along the way to keep your energy up.
By following these steps, you can prepare for your move efficiently and reduce the stress that often comes with relocation. Remember to take your time and stay organized throughout the process. With a little planning, your move can be a smooth and successful adventure.
New Hampshire Cheap Moving Rates & Time To Move Examples
| To / From New Hampshire | Distance | Cost (2 BR) | Cost (2 BR) | Cost (2 BR) | Estimated Time In Transit |
| --- | --- | --- | --- | --- | --- |
| New Hampshire to Palm Coast, FL | 1075 miles | $3,656 - $4,615 | $5,468 - $7,283 | $7,283 - $10,610 | 4 - 6 days |
| Lansing, MI to New Hampshire | 662 miles | $3,123 - $3,922 | $4,635 - $6,151 | $6,151 - $8,925 | 3 - 5 days |
| New Hampshire to La Mesa, CA | 2547 miles | $5,535 - $7,065 | $8,425 - $11,307 | $11,307 - $16,628 | 6 - 8 days |
| Clearwater, MN to New Hampshire | 1131 miles | $3,796 - $4,798 | $5,691 - $7,586 | $7,586 - $11,067 | 4 - 6 days |
| New Hampshire to South Bend, IN | 759 miles | $3,275 - $4,120 | $4,873 - $6,475 | $6,475 - $9,408 | 3 - 5 days |
| Westminster, MD to New Hampshire | 372 miles | $2,656 - $3,313 | $3,900 - $5,151 | $5,151 - $7,430 | 3 - 5 days |
| New Hampshire to Wilmington, NC | 700 miles | $3,189 - $4,008 | $4,738 - $6,291 | $6,291 - $9,131 | 3 - 5 days |
| Grafton, VT to New Hampshire | 60 miles | $1,971 - $2,420 | $2,822 - $3,683 | $3,683 - $5,235 | 2 - 3 days |
| New Hampshire to Lauderhill, FL | 1262 miles | $3,913 - $4,951 | $5,874 - $7,835 | $7,835 - $11,438 | 4 - 6 days |
| Brightwood, OR to New Hampshire | 2467 miles | $5,402 - $6,891 | $8,215 - $11,019 | $11,019 - $16,197 | 6 - 8 days |
*Prices and times are estimated. They can vary depending on the season and other factors.
How Can You Properly Sift Through Affordable Moving Companies?
When it's time for a local move in New Hampshire, finding the right moving company can make all the difference. With so many Hampshire moving companies out there, how do you know which one will do a fantastic job without breaking the bank?
Here are six simple yet effective tips to help you navigate the moving industry and ensure you make the best choice:
Look for Highly Recommended Companies
Start by asking friends, family, or even colleagues for recommendations. Those who have had a great experience with a moving company can provide valuable insights into their reliability and quality of service.
Check Online Reviews
In this digital age, online reviews are your best friend. Look for moving companies in New Hampshire with a track record of excellent service. These reviews can reveal a lot about their customer satisfaction and the quality of their work.
Get Multiple Quotes
Don't settle for the first quote you receive. Contact a few moving companies and ask for detailed estimates. Comparing these quotes will help you understand the pricing landscape and identify affordable options.
Inquire About Packing Supplies
Some moving companies offer packing supplies as part of their services. This can save you time and money, so be sure to ask about this when getting a quote.
Verify Credentials
Ensure the moving company you choose is licensed and insured. This not only guarantees professionalism but also protects your belongings during the move.
Ask for References
A great way to evaluate a moving company's trustworthiness is by asking for references. Contact previous clients to get a firsthand account of their experience. A company that does a great job will be more than willing to provide references.
By following these simple guidelines, you can sift through affordable moving companies in New Hampshire and select the one that best fits your needs. This way, you'll enjoy a stress-free move without emptying your wallet.
Types of Services Offered by Professional Moving Company
Hiring a professional moving company can turn a potentially stressful experience into an efficient and smooth one. These experts in the field offer a range of services to meet your unique moving needs, ensuring your transition to a new place in New England goes like clockwork.
Here are six types of services commonly offered by professional movers:
Local Moving
Local moving services are perfect for those who are staying within the same city or region. Professional movers will help you pack, load, transport, and unpack your belongings, making your local move an efficient and stress-free experience.
Long-Distance Moving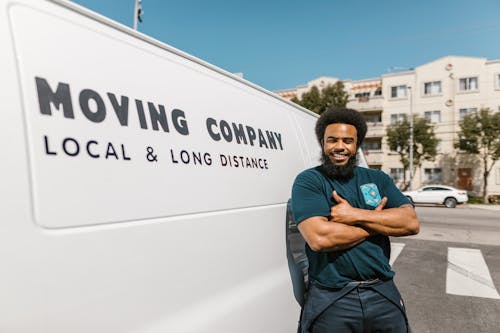 When you're moving to a different state or a significant distance away, you need the expertise of long-distance movers. They ensure your possessions are safely transported in record time. These professionals know the best routes and have the resources to handle the complexities of a long-distance move.
Packing and Unpacking Services
One of the most time-consuming aspects of moving is packing. Professional movers can take this task off your hands by efficiently and securely packing your items. They'll even unpack your belongings at your new place, making your move incredibly convenient.
Furniture Disassembly and Assembly
Large or bulky furniture items can be a challenge to move. Professional movers have the skills and tools to disassemble your furniture, making it easier to transport. Upon arrival, they'll reassemble it, so you don't have to lift a finger.
Storage Solutions
Sometimes, you may need storage solutions during your move. Professional movers often provide storage facilities where your belongings can stay secure until you're ready to receive them at your new location. This flexibility can be a lifesaver during the moving process.
Specialty Item Handling
If you have delicate or unique items, such as artwork, antiques, or pianos, professional movers have the expertise to handle them with care. They use special packing techniques and equipment to ensure these items arrive at your new home in pristine condition.
By offering these services, professional moving companies make your relocation experience efficient and stress-free. They have the experience and know-how to navigate the challenges of moving, ensuring your move in New England stays clear of hassles and surprises.